Scrolling Glitch Is Another Problem In iPhone 5 Touchscreen
It is very sad to here about issues with new iDevice from Apple and today we will talk about scrolling glitch iPhone 5 touchscreen issue. All kinds of horror stories about birth trauma of the new iPhone 5 we have heard all the time. After rumors of purple haze in iPhone 5 camera and another issue with iPhone 5 Wi-Fi  it is not looking strange about another reported bug with touchscreen scrolling glitch.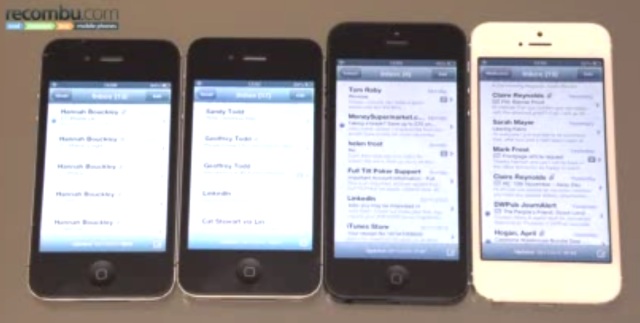 Developers at CMA Megacorp posted a web video that captured this "mysterious defect." Or rather strange issue on the iPhone 5. If you open any list on the gadget such as e-mail application or Notes and quickly browse the contents of the start up and down then at some point the finger will continue to move, and the content will remain in place. According to developers, this behavior of lists which in principle only loosely be called problematic can be noticed on any iPhone 5 running iOS 6 / 6.0.1. By the way, there is news that factory unlocked iPhone 5 models are going to be on sale soon.
In the demo video CMA Megacorp demonstrated a problem of the touchscreen on two models of iPhone 5. Two iPhone 4S which are also in the frame were not susceptible to this failure.
Interestingly, the same scrolling glitch on iPod Touch 5G touchscreen screen which is equipped with the same 4-inch display which uses in-cell technology. According to one theory, this scrolling glitch problem in iOS can be caused by a hardware problem of the latest models of smart phones and players created by Apple. Otherwise, Apple will fix a bug in one of the next iOS updates.
These iPhone 5 problems cause reducing of the popularity of the latest device among the users. However I think that these issues are not issues at all. It is another rumors spread by the rivals to reduce selling of this best smartphone on the market.
Do you agree with me? Use comment form below to argue.