Send Files Easily Using AirBlue Sharing Cydia Tweak
Do you know there is Cydia tweak that lets you send files to other devices using Bluetooth? I'am talking about AirBlue Sharing!
The last tweak we mentioned was OneByOne Contacts tweak. This tweak can be helpful in deleting a lot of contacts from your iPhone. It can make this process much faster. Check this link to view how it works.
So AirBlue Sharing is a recently launched Cydia tweak that permits users to share files with any cell phone with Bluetooth. AirBlue cydia tweak offers similar functions provided by Celestial, iBluetooth(iOS 3) or maybe iBlueNova (iOS 4). A fresh tweak is up for grabs on Cydia store that allows you to send the pictures taken with iPhone 4/ 4S to non-iOS products for example Nokia, Motorola, Blackberry, Samsung and Android smartphones.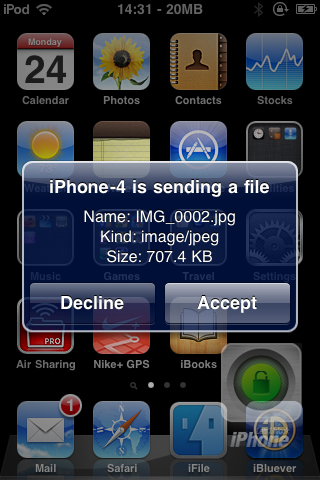 It's also possible to exchange files with Windows PC, Linux, and also Mac too. In addition to Bluetooth, it enables you to send or get documents between iPad, iPhone or iPod touch utilizing WiFi connection, similar to the AirDrop for the iOS. The Bluetooth mailing speed is about 170KB/s.
The AirBlue Sharing Cydia tweak operates on all jailbroken devices that are have an iOS version from 4.2 to 5.0.1 and also doesn't need any kind of configuration. When transporting files, you'll get speeds of up to 1.7 MB/s and will be able to exchange to the Bluetooth allowed device providing the file supports "Open In…".
Are you sick and tired of telling your buddies that you can't exchange files via Bluetooth?  Well, in case you are, then you can easy download one of the most helpful Cydia tweaks. AirBlue Sharing can be downloaded from the BigBoss repo for $4.99.