When Do We See Release Of iOS 5.1 Untethered Jailbreak?
There is no iOS 6 release yet but the speculations about it are soaring in the net. We all expect new iOS with iPhone 5 launch. But how about untethered jailbreak for iOS 5.1? We wrote you latest news about this jailbreak but there is no release.
Well-known french hacker and jailbreak developer Pod2g started a poll few hours ago. There is a question from him and iPhone Dev Team about releasing of untethered jailbreak for iOS 5.1. Should iPhone Dev team hold off on launching their jailbreak till iOS 6?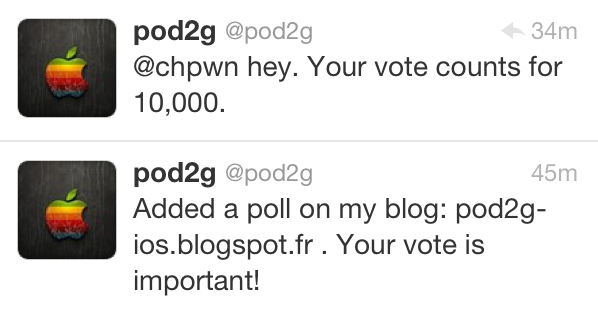 The poll added on his blog where you can leave your voice and it consists of one question and three variants of answers:
Poll: Shall we hold off the jailbreak for iOS 6?
No ! Release ASAP and burn 5 exploits
iOS 6's gonna be a challenge. Keep your stuff.
Where's my bottle of beer?
Pod2G have an exploit for iOS 5.1 untethered jailbreak and asks us if we can wait for release till iOS 6 because he has no time to do this today. Also there is info that the release could be in moth or two.
As for me I voted for quick launch because there is no official data for iOS 6 release from Apple company. There are rumors that it will be at WWDC on June 11. But who knows? Many iOS 5.1 users have been waiting for this for a long time. I think that they can no longer wait.
What do you think? Should Pod2G and iPhone Dev Team hold off with iOS 5.1 untethered jailbreak or not? Leave your thoughts about this in the comment form below. And stay tune with us for new updates.