How to Use and Set Live Wallpaper on iPhone 6s / 6s Plus
There are a lot of fun extras on iOS 9 iPhone 6s and iPhone 6s Plus. These two new Apple smartphones are interesting to explore. You might already be taking Live Photos and sharing them with your friends. There is another great feature – iPhone 6s Lie Wallpaper that you can use on this iDevices.
We'll tell you how to set and use this option. It is possible to turn any photograph and images on iPhone 6s into your wallpaper, make Stills and Dynamic. But there is another opportunity you can use – Live Wallpapers that are simply fantastic.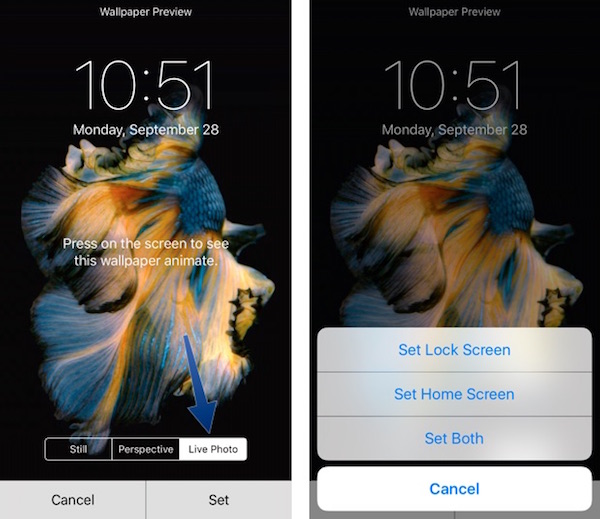 How to Set Live Wallpaper on iPhone 6s and 6s Plus
Step 1. Your 2015 iPhone model already arrives with nine Live Wallpapers you can choose from. So go to Settings.
Step 2. Select Wallpaper option.
Step 3. Choose New Wallpaper is the next menu you should access.
Step 4. You will see Live category that you should head over to.
Step 5. You will see the 9 wallpapers so select the one you wish to use at the moment.
Step 6. It is also important to select the Live Photo option. You'll find it at the bottom. Users who don't choose this feature will not be able to see the animated image.
Step 7. Click on Set once you've done everything and remember to choose Home Screen and / or Lock Screen as this is where your iPhone 6s Live Wallpaper will appear.
Step 8. Go to your Lock screen and press firmly on the display. This 3D Touch option will animate the wallpaper you have chosen. Sadly animation will not work on your Home Screen.
You an also make your Live Photos your wallpapers. Just go to your Photos program and select the Live Photo you wish to see as iOS 9 wallpaper. Choose Share option and select Use as Wallpaper menu after you enable Live feature at the image's top.