Sherif Hashim About iPhone 4 Unlock Baseband 04.11.08 With UltraSn0w
If you are iPhone 4 user then I have some news about unlock baseband 04.11.08 with UltraSn0w from Sherif Hashim. There is a rumor then much expected unlock solution for 04.11.08 is coming.
If you are looking for this unlock then you must hear about Sherif Hashim. He is well-known baseband hacker. It was the information that he helped in the past to develop Ultrasn0w unlock for iOS. Sherif said a few words about this unlock. He answered a question on twitter that had something found to complete creating unlock solution. But there are still some difficulties.
Sherif Hashim tweets About Unlock 04.11.08 With UltraSn0w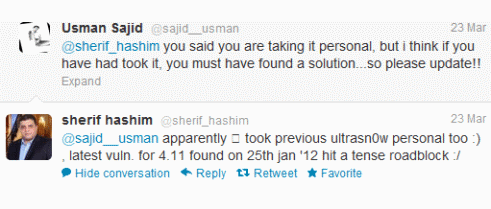 So we can only hope to get this unlock for iPhone 4 baseband 04.11.08. Do we have to wait for solution from Sheriff Hashim or that is another fake unlock? What about US hackers and their activity? It seems that Apple doesn't allow to release this unlock. May be this company have paid for it and we don't see this unlock.
You can also wait for other alternatives such as Gevey Sim because Applenberry company is trying to find unlock solution for 04.11.08 baseband too. Or try another way and simply downgrade 04.11.08 baseband.
I know that you are sick and tired of all this. I can only give you the hope. Don't try to browse the net because you don't find this unlock for iPhone. Just be passion and I think that it will come soon.
Update: You can try to unlock any iPhone baseband and 04.11.08 too using SAM unlock.
I'm not a programmer and I can't speculate about iPhone 4 on 04.11.08 unlock with Ultrasn0w or Gevey sim. I can only give you the freshest info about it.
You may also leave comments below and discuss unlock solution for baseband 04.11.08.