How To Make A Social Experiment With Fake Dream Jailbreak iOS 6
Authors of Dream JB progect, who promised to release untethered jailbreak iOS 6/6.0.1, posted a video proof designed to convince the iPhone 5 and iPad mini users in the plausibility of their words. As a result, almost immediately became clear that it was a fake and you can watch it on the video. Users who managed to see video (now dremjb removed content from its you tube chanel), found several mistakes made during the installation of the video.
As was noted by hacker iH8Sn0w, once you reboot iPhone 5 suddenly revealed desktop, missing the lock screen. Paul Grand (Chpwn) said the same, according to which, jailbreaking does not change this aspect of the iOS. In addition, Dream jailbreak fake unlocked smartphone before he started recording.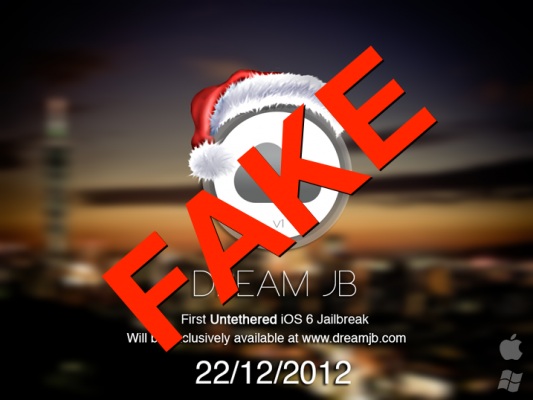 After reviewing the video, another hacker MuscleNerd tweeted that the status bar in the Dream jb fake app is exactly the element of the interface, written in the Redsn0w tool and the Verbose screen closes the same part of the screen. This, he said, can not be a coincidence. In addition, hackers do not bother to show the work of the Cydia store after dream jailbreak. So, i0n1c was right and not only he.
After such exposure DreamJB quickly removed the video from YouTube and close his fake project. They wrote on their site that it was a social experiment.
Only in 5 days 20 000 people signed up for DreamJailbreak Twitter account. Their site is visited by nearly 300,000 people. People believed in jailbreak without any evidence.
On the Internet, there are dozens of sites that take money from the people for what is free. Imagine what could happen if fake Dream jailbreak put a price tag on his dream application.
Dream Jailbreak finally noted that "this is a lesson for the audience," and recommended for all users looking for more information before downloading the next jailbreak online. They advised to subscribe to Twitter hackers from Dev Team, who "first publish any exploits."
So, be careful and stay tuned only with real sources like us and you will never be scammed like with Dream JB.