Everyone who hurried to install iOS 8.1.1 and now wish to downgrade to iOS 8.1 are out of luck. Does Apple sign iOS 8.1? No, the company stopped doing this and it is now impossible to perform downgrade so if you are running 8.1.1 version just enjoy it.
iOS 8.1.1 downgrade was possible up to December and users who wished to get back to the previous version of this mobile operating system for Apple smartphones and tablets could easily learn how to downgrade 8.1.1 to 8.1 which can't be done these days.
The firmware 8.1.1 was launched in mid-November and it patched the exploits used in Pangu jailbreak tool. This is probably the main reason why some users quickly downgraded from iOS 8.1.1 to 8.1. They just wanted to be jailbroken which couldn't be done on the new firmware release.
This, however, should not be an issue as a group of hackers from China released TaiG jailbreak solution for firmware 8.1.1 where Pangu doesn't work.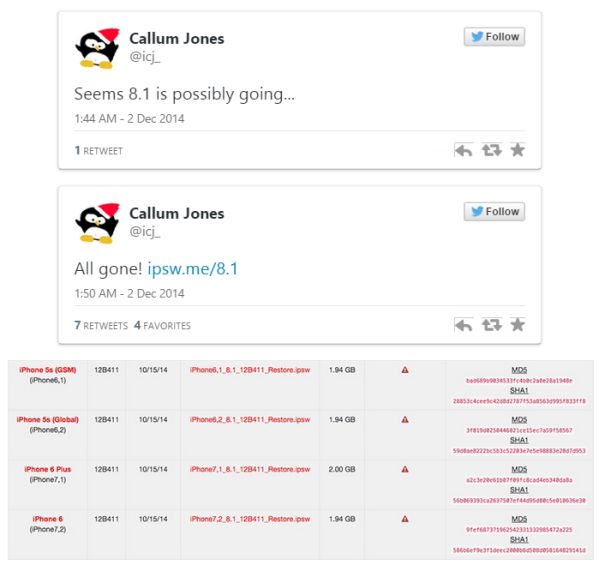 TaiG seems to be safe, as confirmed by MuscleNerd already. It is reportedly capable of jailbreaking the first beta of 8.2 firmware update which is available to devs and users who risk to upgrade even though this is a testing version. If you wish to use iOS 8.1.1 TaiG jailbreak you can do so as this is the only untether tool that works with this firmware.
As MuscleNerd said about TaiG jailbreak ios 8.1.1, it can be used without caution by users. The hacker notes that the information TaiG sends to the server is only "light fingerprinting" and this is not too serious.
Is TaiG iOS 8.1.1 jailbreak safe? Yes, yes and yes, as it is officially confirmed by a trusted hacker.
READ MORE +