Perhaps many of you have been waiting for update and now you can enjoy the possibility to read about Tiny Wings 2 features. It is not just second version it is also have a lot of features including HD version.
This iPad and iPhone app received a big update. Many of you could think that we will never see the second part but it came. And the last think left, what Tiny Wings 2 features?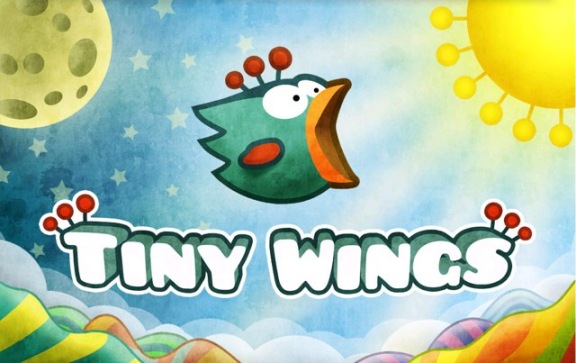 The best option of Tiny Wings 2 is that it now supports Retina display on iPad and you can only image how cool is that. Feel the real game enjoying HD quality and it is now available at the App Store to download.
The classic game of touch did not remain as it was before: we need to fly as far as possible from the night, collecting along the path of the sun and earning bonus points. But this mode of the game added a new – Flight School: a player must compete not with the blood-thirsty at night but with three other birds under computer control. The task of the player, respectively, to reach finish line first. In the Flight School available fifteen different locations, which painted by hand.
In the HD-version of Tiny Wings 2 we can enjoy multilayer mode, which allows you to compete against other real players, but the principle it is the same as in Flight School mode – reach the finish first. In this mode, for your convenience, the screen will be divided into two parts as in the picture.
Another Tiny Wings 2 function I just can't miss. This updated version now supports Retina resolution. Moreover, such a support has demonstrated a version for iPhone, and the version for iPad. And it is really great to hear and it is available at the App Store now!.
But this is not the last feature. Now you can all your results synchronize between devices using the iCloud. So get used to new iCloud technologies and enjoy them.
It is nothing easiest in this world as to download Tiny Wings 2 for iPhone and for iPad. The cost for iPad tablet is $2.99 and the cost for iPhone is $0.99.
READ MORE +