Use These Tips To Setup New iPhone 6
Here is useful guide on how to setup new generation iPhone 6 or iPhone 6 Plus if you have just buy it as Christmas present and want to use it. Follow this informational guide on how to configure the device, install the needed apps and become acquainted with all device's features.
Back up your old phone
Don't forget to back up your old phone before start to use the new one. iTunes is the best and the fastest way to do it. So connect it using the appropriate USB cable to your Mac and fire up iTunes. Choose your iPhone, and under Backups, select This Computer. Check Encrypt local backup as your account passwords are stored and you won't have to enter them all again. Tap on the button to Back up now.
Restore from backup
After your phone is up and running and everything's how you like, then you can switch back to iCloud backups if you want, go Settings > iCloud > Backup.
Finish the setup process
Although the restoring process is done, you still have few steps to complete the setup on your brand-new phone. You'll enter your iCloud account password. In case you use two-factor authentication of iCloud account you also need to enter a second security code. Than the iCloud terms and conditions should be agreed with. The next step is to set up the options on how people can reach you over iMessage and Face Time. Of course you can skip all these steps and do them later.
Configure Touch ID fingerprint sensor
You should create your Touch ID. Follow the device's instructions so it can examine your unique fingerprint asking you to touch repeatedly the home button's fingerprint sensor. To get a full picture the system even ask you touch with the edges of your thumb. You'll also set a Passcode for backup. The last important step is to decide if you want to use that fingerprint to make purchases in the App Store and iTunes Store. Using your fingerprint instead your Apple ID's password is a huge time saver.
Check the settings
Your home screen will have an free space where you can put more app icons. Although you're done this work. You should open the Settings app and check out the new options, as well as update the settings.
Select the resolution with Display Zoom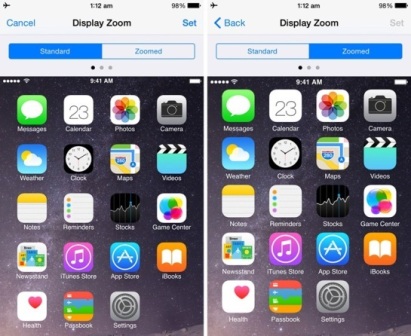 The zoomed view enlarges the size of the app icons and touch targets. A three-panel preview is shown, including how the home screen would look with each setting option.
Update your apps
Every app in iOS 8 should be updated, visit the App Store to do it. Also apps can be auto-updated by clicking the Updates switch in Settings > iTunes & App Stores > Automatic Downloads. But it is better recommended to do it manually because you can read release notes that come with each update and check what's changed.
Open the Tips app
A brand-new app called Tips was added to support iOS 8. It is very useful to get some short usage informational tips about using your device.
Jailbreak iPhone 6 or iPhone 6 Plus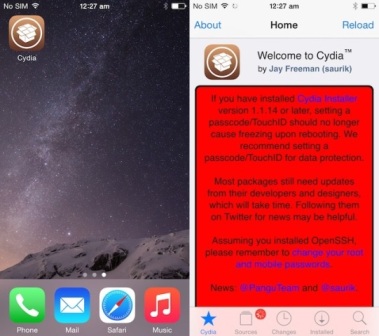 Apple company always wants to control the usage experience of your iPhone by controlling the App Store and preventing the installation of apps from third-party sources. You can jailbreak your iPhone 6 or iPhone 6 Plus in case you want to get different tweaks and begin to utilize your device in free way .
Set up Apple Pay
The best thing to have iPhone 6 is the ability to use the new payment method called Apple Pay. So start to use a credit or debit card to buy products online. The important is that using Apple Pay doesn't reveal the information of your real credit card to the stores you shop in, so it is a real secure method to purchase.
Now you know how to setup new iPhone 6 or iPhone 6 Plus and start to enjoy using it.