Unannounced Apple Watch Coach Bands Listed as Sold Out
We've heard about new Apple Watch bands 2016 that were supposed to be designed by Coach. They actually appeared on the company's website however no one officially announced the accessories. Users hoped to hear about these bands during WWDC 2016. Still the product was listed on the site.
There are curious reports about Apple Watch Coach bands. Without any announcement these luxury accessories were added to the site. The well-known designer was rumored to create nine impressive bands for the 'fruit' smartwatch. Apple could release Apple Watch 2 this fall and the designer's bands are most likely meant for this next generation wearable.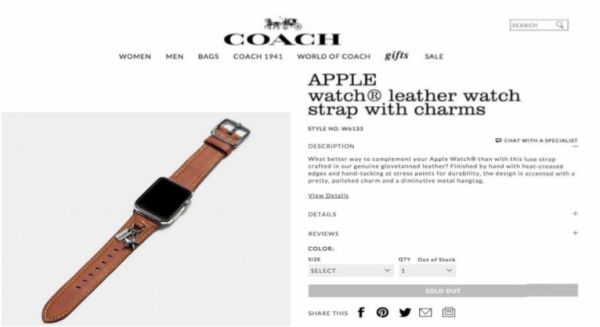 As noted by experts who noticed Apple Watch bands by Coach on the website, the products were listed as 'Sold out' however no customer could purchase the accessory. The bands had impressive descriptions and promised to bring 'pretty charm' to each customers.
Since the listings were added as 'sold out' no one saw the price. The cost is still kept in secret since the accessories were most likely published ahead of official presentation and release date by mistake. If there is no announcement during WWDC – Coach could easily launch its new Apple Watch bands for either original wearable or the next generation Apple Watch 2 at any moment.
Of course, the accessories are useless without the device they are meant for. Apple Watch 2 is believed to be launched this year. It was expected in March or April but instead customers saw the release of the 4-inch iPhone SE. Maybe the wearable will be launched in the fall.