Unfold Cydia Tweak Brings Origami Lockscreen To Your iDevice
Few days ago you could observe a concept that allowed to unlock your iDevice by folding the lock screen instead sliding to unlock. Unfold Cydia tweak has arrived today to bring the concept to life. The speed of jailbreak community is really inpressive. The tweak appeared just a few days after the idea has arrived. What's more pleasant – it's completely free.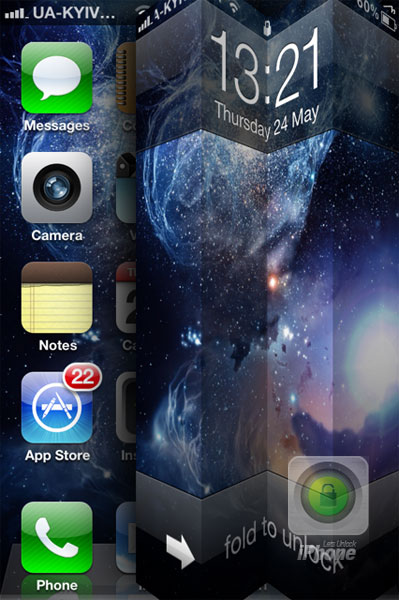 It is also worth noting that this idea belongs to Russian designer Anton Kudin, here's his website and was eralier named "fold to unlock". The idea was implemented by Jonas Gessner, which has managed to reproduce the concept extremely accurate. Unfold does not conflict with such tweaks as LockInfo, Camera Grabber, Bulletin and IntelliScreenX, it has absolutely no settings and it "just works".
Here's the video showing what Unfold Cydia tweak can do:

The tweak reqires iOS 5 or higher in order to work properly. It also is not compatible with iPad but as the tweak gets more and more popular it can easily be adopted for the 9.7 inch screen.
The main function of Unfold Cydia tweak is clear as water in mountain river. It makes your lock screen fold up as you perform slide to unlock gestures. It animates smoothly as you fold the screen and find the SpringBoard behind it. If you have a passcode setup on your phone it will reveal the passcode screen so you can enter it as usual.
This tweak doesn't adds much to device's performance or productivity like some of the other Cydia tweaks do but it's definitely worth trying if you are tired of the "slide to unlock" button on your iPhone's lockscreen. That's exactly the time for you to try Unfold (or other similar tweaks like Stride). Again, it's completely free (don't mind to donate if you are keeping it on your device for longer than one day) an can be found under the standard BigBoss repo in Cydia.
What do you think of the tweak? Does it work without any issues on your device? Let us know about it in the comment section below.