How to Unlock Off Contract iPhone Locked to Virgin Or Bell
As it was predicted now you are able to unlock off contract Bell and Virgin carriers paying 75 bucks and then use factory unlocked Bell iPhone or Virgin.
But here we will talk about Bell and Virgin mobile networks. Today they start unlocking iPhone after the end of the contract. It is said that it is a present for Christmas and if your contract with one of this carrier ended just pay fee of $ 75  and enjoy unlocked device. Yes, you need to pay but only once.
Note: On April AT&T company announced they would unlock off contract iPhone and if your device was locked to AT&T go here and find out how to do it for free if your contract is off.
So, if you want to have your iPhone unlocked via Bell or Virgin you will need to pay 75 bucks. Let's see how you can do it.

How To Unlock Off Contract Virgin and Bell iPhone
There are no some special and difficult steps, all you need to do is to contact with:
Bell's Credit & Prevention
Virgin Care
and talk with their representative. But as usual there are some requirements you need to fulfill if you want to successfully unlock iPhone from Virgin or Bell:
Must own iPhone outright (all models/baseband/iOS supported, Bell and Virgin);
Must not be on contract;
Must be a post-paid Virgin Mobile or Bell Mobility customer;
$75 onetime payment via Credit Card;
If you are alright with all these specifications you can easily unlock off contract Bell iPhone. Also the requirements are the same if you are looking to unlock off contract Virgin iPhone.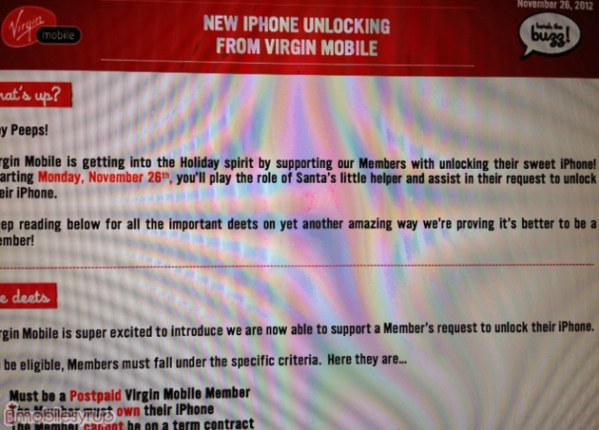 As it was informed first it will be "launched in phased approach" and in "the next phase in 2013" these carriers will be looking to "expand the eligibility guidelines." Stay tuned with us for more updates about it.
As for me it is good decision made by Virgin and Bell but I have to say that 75 bucks is too much. I know services that offer factory unlock any iPhone using IMEI number for the cheaper prices, so here below you can choose from the best services in nowadays.
I can offer you the cheapest IMEI unlocking service in nowadays and if your device is locked to Virgin or Bell you can factory unlock it and it doesn't matter if your iPhone is in contract or off contract with these carriers.