How to Unlock iPhone 4 iOS 6.0.1 Baseband 04.12.02
If you accidentally or deliberately update your device to the latest iOS version you need to unlock iPhone 4 running fresh iOS 6.0.1 on 04.12.02 baseband. Here is a guide on how to do it in the best way and enjoy permanently unlocked iPhone.
If you look at iOS 6.0.1 unlocking methods you will see that there is only the one method that can help you with current baseband. Unfortunately, it is paid. Of course you can use SAM if you have all needed things for this tool. Let's see what we can do with SAM.
If you have Activation tickets which had been saved before Apple closed exploit last Spring you are very lucky guy. If you haven't these tickets than SAM tool is not for you buddy. But even if you have some you need untethered jailbreak having only tethered iOS 6.0.1 jailbreak which you can perform now.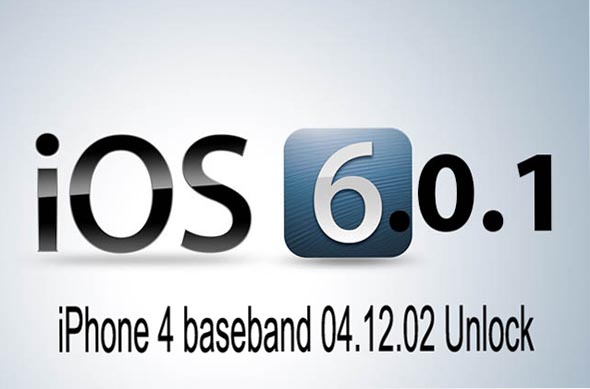 The same situation with Gevey SIM as with unlock iPhone 4 04.12.02 using SAM. No updates from Applenberry for this firmware and modem firmware version. So, as I said before you could use only one way to free your device.
There is wide range to choose from different services that offer legit IMEI unlock for any iPhone including iPhone 4 iOS 6.0.1. The best way to do it is to find official and cheap service which can quickly unlock your iPhone.
This method is really the best because it provide unlock not only for 04.12.02 baseband on iOS 6.0.1 iPhone 4 but for all other modem firmware versions and iOS. Trying IMEI unlock you will be able to use any SIM card and change them still be unlocked. Update your device to iOS 6.0.2 or iOS 6.1 and enjoy calls. That's amazing. It is the easiest unlocking method ever. You ought to do nothing, except easy steps below.
Unlock iPhone 04.12.02 Baseband on iOS 6.0.1
Step 1. Find out the carrier your iPhone is locked to. If you don't know ho to do it you can always try our free IMEI network checker and you can use whenever you want.
Step 2. Now when you know to what operator your iPhone is locked to choose cheap and genuine IMEI unlocking service and here you can find it:
If you find out that your device is locked to AT&T the only way to unlock iPhone 4 iOS 6.0.1 fast and for cheapest price is to use AT&T unlocking service and get it in a hour.
If you are not so lucky and your iPhone is not locked to AT&T don't worry because you still can use this international factory iPhone unlock company and get permanent unlock for the lowest price on the web and that's for sure.
Step 3. Choose your network and make a order providing only your iPhone IMEI number, carrier and model.
Step 4. After you receive email that your iPhone 40 04.12.02 is factory unlocked you will need to do following action to complete unlock.
Step 5. Connect your device to Mac or PC and insert SIM card of the network you want to use.
Step 6. Launch iTunes and wait till the program detects your gadget. After that disconnect USB and connect it again after 10 seconds. If nothing happens you need to restore your iPhone to get Congratulations message in iTunes.
Now you can use any SIM card / carrier from around the world because you have just unlocked iPhone 4 on iOS 6.0.1.