How to View Email Attachments from List of Messages on iOS 9
It is cool if you can view your mail attachment iOS 9 without taking too many steps. All iPhone users who have the jailbroken smartphone can take advantage of popular Cydia tweaks, install new applications and get more options that are not available to user who are not jailbroken.
There is a tweak you should learn about. It is called AttachmentFlow and it adds extra features for your Mail app. Here is what the tool offers and how you can use it.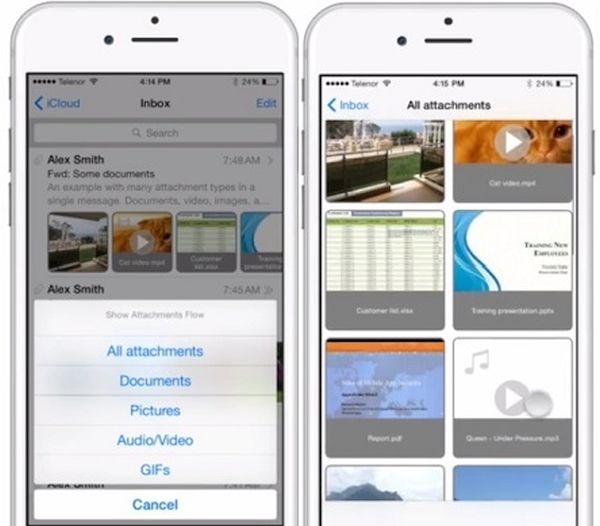 How to View Email Attachments from List of Messages
Step 1. Before you install AttachmentFlow you have to note that it costs $1.99. You can find it on the BigBoss repo on Cydia.
Step 2. With the tweak enabled you can launch mail application and find a paperclip at the bottom. Click on it and you will find all the images and other files attache to email without having to open every message. This saves much time because the tweak displays all attachments you received from all emails at once.
Step 3. It is possible to also view only emails with attachments only. Long click on your screen and you'll open Flow option that shows no messages without attachments [photos, videos, audio files, documents]. It's cool.
Step 4. The tweak doesn't download the attachments unless you want it to be downloaded. This way you can take care of your mobile data usage on iPhone and save on your bill.
Step 5. When you wish to view individual attachments you can click on the image thumbnail and this way only the specific file will be open in full screen.
Step 6. The tweak is easy and simple to use. It saves much time for users who are constantly getting new emails with attachments. It supports iOS 9 and iOS 8 versions [not including iOS 9.3 betas Apple seeded to developers and public beta testers].
Do you think that AttachmentFlow is a nice customization for your Mail application?