Wait For iOS 6.1.3 Jailbreak Untethered This Year!
Hacker Winocm, previously repeatedly demonstrated the jailbreak for iOS 6.1.3 and iOS 6.1.4, marked the release dates of public exploit. According to him, the release will take place in the next few months. In late September Winocm said the jailbreak iOS 6 is almost ready for release.
A hacker has asked people to be patient, noting that "the jailbreak will be released before 2014." While we are waiting for iOS 7 jailbreak the developer has posted video demonstrating jailbroken iPhone 5 on the operating system iOS 6.1.4.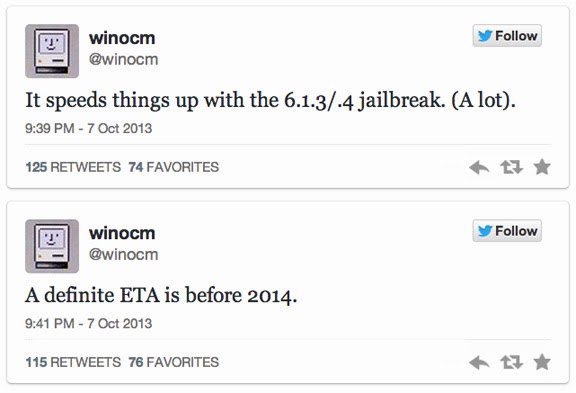 Previously was also published a screenshot of a hacker, who confirmed the existence of an exploit for the iPhone 5. In the past Winocm also talked about the preparation of untethered jailbreak iOS 6.1.3 for iPhone 4. Now, apparently, he is preparing a version for the iPad tablet.
At this point there you can use only Sn0wbreeze or Redsn0w to crack iOS 6.1.3. They are available for the iPhone 4 and 3GS, but this jailbreak is tethered.
This means that each time you restart the device must connect it to the computer
As always, remember that I will be following the development of untethered jailbreak for iOS 6.1.3/6.1.4 and will post any fresh news.