Apple Watch Expensive Price and Release Date Announced by Apple
Apple Watch release date is now officially confirmed by the company's CEO Tim Cook who presented the new product at 'Spring Forward' media event on March 9. Before you learn how to pre order Apple Watch to make sure you get it in April, it is better to take a look at the pricing offered by the Cupertino-based giant.
There were many rumors on the wearable with iOS 8.2 support [you can download iOS 8.2 ipsw for iPhone, iPod and iPad to see Apple Watch app]. Still most consumers believed that the cost would be affordable, however such predictions didn't come true.
As it was reported at the Yerba Buena Center for the Arts earlier this week, the new addition to the Apple family of gadgets is the 'most personal' product the company created because customers will wear it on them. The super accurate Apple Watch will be available in numerous configurations to meet the expectations and likes of as many people as possible.
Apple Watch price reflects what it can do as this is your 'personal iPhone on your wrist' as many people can call it and be correct. The wearable can check user's heart rate, control music, show weather forecast and even receive your phone calls thanks to the microphone and speaker that are built into this new device. It is also capable of reading emails, getting text messages and alerts. Besides, it helps you cycling and running and provides you with other workout details.
Apple Pay will also work on the Watch which supports Passbook and can unlock the door in the hotels and garages. Siri works on it too as well as App Store which will let download applications for your wearable.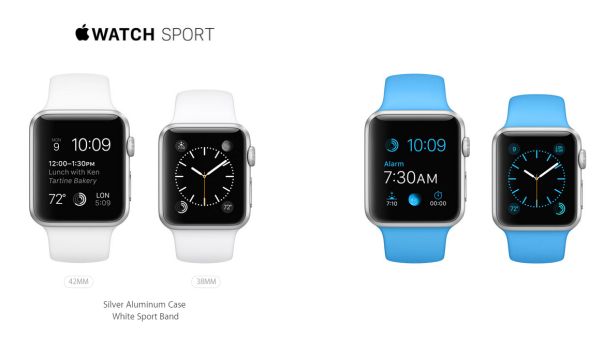 How to Pre Order Apple Watch
It will be possible to pre order this new device on April 10. This is when the company promises to preview it and when it will start taking pre-orders from customers. The stores will get this product on April 24.
Where will the Watch be sold in the end of April? According to Cook, it will appear in the U.S., the UK, Germany, Australia, Hong Kong, Canada, China, Japan, Australia and France.
Apple Watch Price
The cost of the Watch ranges from $549 to over $10,000. Apple offers its 38mm models at $549 to $1049 and 42mm versions from $599 to $1099 depending on band. Gold editions are to be priced over $10,000.
Watch Sport will be the most affordable models priced at $349 [38mm] and $399 [42mm].
The ordinary Watch will cost $549 [38mm] and $599 [42mm].
The special Watch Edition are to cost at least $10,000.
Hold on, as you cannot buy the product at this price because you'll have to pay for your Watch band which will cost from $49 to $449.