Control Your iDevice Using Veency Cydia App [How to]
If you hesitate whenever jailbreak your iPhone or not then I can tell you that do it for Veency. Vencee is the one of the best Cydia apps and it si very useful tweak. Thanks to this jailbreak tweak you can use your computer to control your iPhone, iPad and iPod Touch.
Veency permits full entry to your phone and it is comparable with clients on just about any computer and iGadgets. Veency is a BigBoss repository in Cydia. But I must tell you that it is not easy to install it so I decided to show you how to do it fast.
There are three important steps that you have to do but before we start you will need this:
A WiFi network connected to both your computer and your iOS device
Veency
A VNC viewer for your computer
How to Install Veency
Step 1. Installing Server.
Look for Veency on Cydia
Set up Veency. The program should belong to Jay Freeman (@saurik) in the Cydia/Telesphoreo repository. It's a no cost package and should also set up dependencies for mouse and keyboard support.
While you're in Cydia, get the Veency SBSettings Toggle. It'll allow you to eliminate Veency from SBSettings while you're not working with it, which helps keep your phone secure and save on life of the battery. If you don't wish to use SBSetting it is possible to turn off Veency from the stock Settings menu.
Now we're gonna set a password for Veency. Go to Settings, scroll down to Veency, and enter whatever password you feel comfortable with. When you forget your password, it is possible to switch it anytime.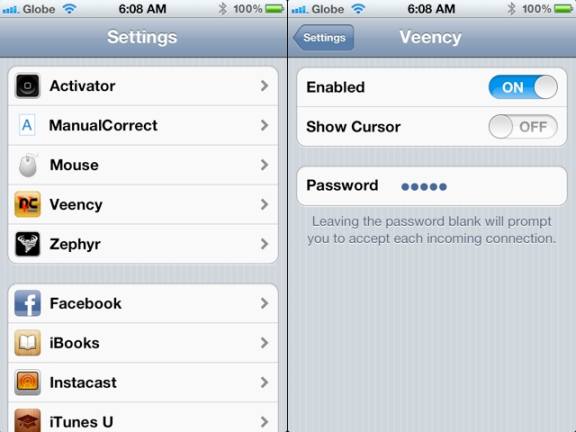 Step 2. Connecting With The Client
Download and set up the VNC client. (You can download TightVNC fro Windows here). You don't need to install a server on your desktop, your iPhone will do it.
To begin a new VNC connection, ensure your iOS gadget and your computer are on the identical network. Ensure Veency is turned on.
Find your device's Wifi IP address (it is a local IP address on your network, not the worldwide IP address on the web). It ought to be shown in SBSettings. There are also it in

Settings => WiFi Networks =>

Your Network

 as your IP Address under DHCP
In your computer's client app, enter your WiFi IP Address as the server. For the password, use the password you entered in settings.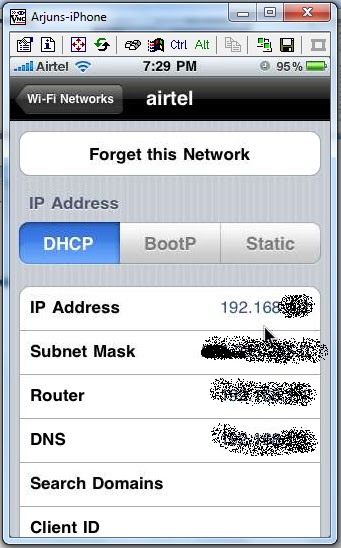 Step 3. Optimizing your connection
Your monitor's most likely not sufficient to easily manage the iPhone 4S' Retina display. In TightVNC you can alter your display size by simply clicking the settings button in the top left-hand corner of the Window. The most usable interface is at 50%. This provides you with the minimum quantity of visual artifacting.
You'll also discover some latency based on your encoding settings. Veency isn't really functional with a Raw feed. Most recommended setting is Zib(Pure) encoding with no JPG compression. It seems good and appears like real-time when you're playing music, however it is most effective when there's not really a lot moving on screen. Using this setting it is possible to easily change songs and update Facebook.
Veency controls
Left-click = tap
Right-click = home
Middle-click = lock
It's also possible to use your computer's keyboard as a bluetooth keyboard for your phone as the VNC viewer's window is open.
And that is it. Now you can enjoy Vencee Cydia app and control your iPhone, iPad or iPod touch from your computer. Leave your thoughts about using Vencee in the comment form bellow to show people that it is really usefull Cydia app.