Cookie Cydia App to Backup Your Activation Ticket
If you follow our blog then you probably know that Apple started fixing its servers to close SAM unlock vulnerability. Cookie Cydia App helps you to automatically save you activation ticket for later use.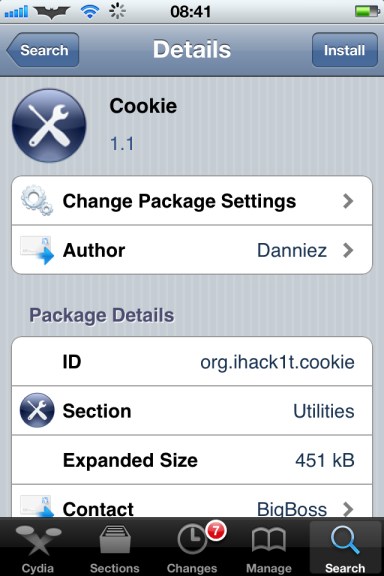 Yesterday Apple started massive security upgrade on its servers to prevent potential unlockers to change their SIM IMSI with SAM unlock. Those who have managed to unlock their iPhones before the hole was closed we strongly recommend to save your activation somewhere outside the var/root/library/Lockdown folder. There were two methods of doing that. The first one was by simply copying the folder to your PC or anywhere you want to. The second – to use the latest version of redsn0w to do it just in few clicks. Today the third method was announced – Cookie Cydia app. It allows you to save activation for desired SIM card to the cloud directly from your iPhone.
That's what the developer says about Cookie Cydia app:
Cookie can Backup your iPhone Activation Tickets to Cloud, and once you back it up, you can Restore it to your iPhone ANY TIME! Ticket data is stored on weiphone servers. Use this if you have Activation Tickets gotten by SAM trick, do it before it's too late.
Very nice feature, isn't it? The backup process goes smoothly and without any issues and the app shows the date of your last backup right away. Be sure to check your iPhone's UDID and IMSI numbers before backing up the activation (you can check UDID in iTunes and IMSI  in SAM's More Information tab).
If you are one of those who hopped on the unlocking train consider your unlock to stay in working state until you have your activation  saved. We recommend to use Cookie to do that as it seems to be the simplest method among existing. You can grab Cookie From BigBoss repo in Cydia for free.
Also you can use this link to save SAM activation ticket without Cookie.