Downgrade iOS 9 to 8.4.1 Instruction for iPhone, iPad, iPod touch
The official release of iOS 9 means that soon Apple will stop singing the previous public version iOS 8.4.1. You can still downgrade iOS 9 to 8.4.1 if you are not satisfied with the most recent mobile operating system however the time is limited. The Cupertino-based giant will not sign iOS 8.4.1 forever.
If you wish to learn how to downgrade iOS 9 to 8.4 you should know that this is impossible. Apple no longer signs iOS 8.4 and there is the version 8.4.1 meaning you are only able to get back to the previous firmware release. It is also impossible to get back from 8.4.1 to 8.4 firmware on iDevices.
How to Downgrade iOS 9 to iOS 8.4.1
Step 1. Before you start doing anything you have to make sure that iOS 8.4.1 is still signed up by Apple. You can check it at https://ipsw.me/8.4.1.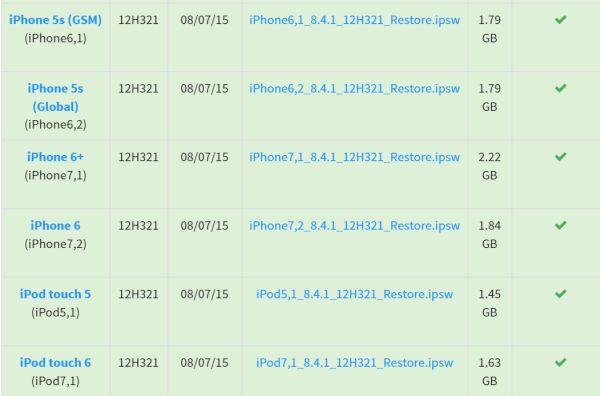 Step 2. Create a backup version of your tablet or smartphone. Use iTunes or iCloud.
Step 3. Download iOS 8.4.1 ipsw for your device / model.
Step 4. Launch iTunes.
Step 5. Enter the DFU mode on the iDevice. To do this, connect through USB to your computer, press on Power to turn off the phone or tablet. Hold Power for approximately 3 seconds and don't release it while holding Home button for another 10 seconds. Let go off Power but keep holding Home button and wait till iTunes detects the devices in Recovery mode.
Step 6. Press Ok to continue.
Step 7. Tap on Shift / Option [for Windows or Mac] and choose 'Restore iPhone' or other device option.
Step 8. Choose your iOS 8.4.1 ipsw file.
Step 9. Select Restore and Update.
Step 10. Press Next and Agree to restore to iOS 8.4.1.
Step 11. Wait till firmware 8.4.1 is installed on your gadget.
Keep using iOS 8.4.1 instead of iOS 9.