Find the World Price of iPhone 5 In Your Country
Yesterday (September 28) iPhone 5 became available for sale in 22 countries of the second wave of sales. But in spite of the simultaneous launch of the device, the inhabitants of different countries were still not quite in the same position. The official iPhone 5 world prices are known in the local markets is different, and very significantly. The primarily reason is import duties and the difference in exchange rates.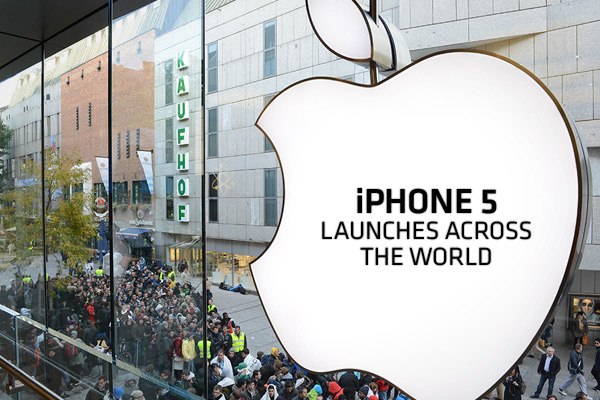 Not surprisingly Americans pay far less than others. A little more price for iPhone 5 has to pay the residents of Hong Kong. But less fortunate of all, it's the Italians – for the iPhone 5 64GB unlocked without a contract they will have to fork out for as many as 949 euros, which is almost 25% higher than the cost of a similar device in the U.S..
For clarity, I posted a chart where you could see prices of all iPhone models in the first and second wave of sales. Many of the countries in which the iPhone 5 goes on sale is European so the prices also in euros.
In comparison, Estonia, Liechtenstein, Lithuania, Slovakia and Slovenia did not participate in because these countries have no Apple chain stores, as well as Japan, where you can officially buy only network locked iPhones.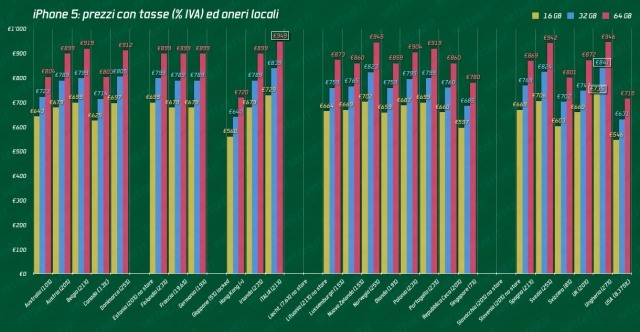 Use this link to enlarge this picture and see the price in your country.
Also you can see the countries in which Apple started selling iPhone 5 around the world, so look at them and find yours:
Austria
Belgium
Czech Republic
Denmark
Estonia
Finland
Hungary
Ireland
Italy
Liechtenstein
Lithuania
Luxembourg
Netherlands
New Zealand
Norway
Poland
Portugal
Slovak Republic
Slovenia
Spain
Sweden
Switzerland
A week ago, you could buy iPhone 5 only in the U.S., Canada, UK, Germany, France, Australia, Japan, Hong Kong and Singapore. All to the end of the year Apple is planning to launch iPhone 5 in 100 other countries. As for official iPhone 5 world prices are not known. Analysts build various assumptions, but how it will be we will actually see soon.