Get iOS 7 beta 6 Download Links Without UDID and Developer Account
Yesterday there were rumors that the next beta version of iOS 7 will be released next week, and another 6 firmware will be the last before the launch of the Golden Master version.
But tonight, Apple has unexpectedly released iOS 7 beta 6 and you can download it using direct links without Apple developer account and even UDID registration.
As with iOS 7 beta 5 you will get DMG files of the new beta. Then you can transform it into IPSW and install on your gadget.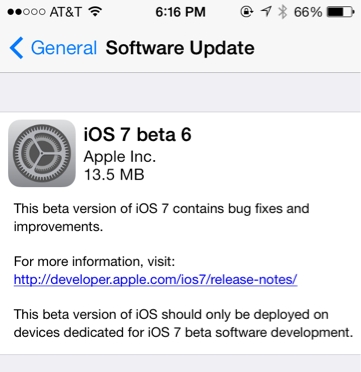 In the description on the website for the developers said that the new version improves the safety of the users of iTunes in the Cloud:
This update addresses an issue with iTunes in the Cloud, where some purchases may download or play unexpected items.
Now you can test it yourself by downloading iOS 7 beta 6 using direct links below:
iPhone 5 Model A1428
iPhone 5 Model A1429
iPhone 4S
iPhone 4 GSM Rev A, 8 Гб
iPhone 4 GSM
iPod touch 5G
iPad 4 Model A1458
iPad 4 Model A1459
iPad 4 Model A1460
iPad mini Model A1432
iPad mini Model A1454
iPad mini Model A1455
iPad 3 Wi-Fi
iPad 3 Wi-Fi + Cellular (GSM)
iPad 3 Wi-Fi + Cellular (CDMA)
iPad 2 Wi-Fi (Rev A)
iPad 2 Wi-Fi
iPad 2 Wi-Fi + 3G (GSM)
iPad 2 Wi-Fi + 3G (CDMA)