iOS 8 – iOS 8.1 Jailbreak Instructions for iPhone on Windows
Pangu jailbreak for iOS 8.1 download is available to all users who wish to untether their iPhone, iPod touch or iPad if it is compatible, of course. You can follow these iOS 8 and iOS 8.1 jailbreak instructions to complete the process as it requires a walkthrough because the jailbreaking tool is currently available in Chinese only.
You can wait till Pangu team releases English version of its iOS 8 jailbreak, but it might take some time and if you don't like to wait you can jailbreak right now.
iOS 8 Jailbreak How To Guide
Before you start make sure you have Windows PC. Pangu tool doesn't support Mac at the moment. The program doesn't automatically install Cydia on iOS 8.1 device, you'll have to install it manually after you are jailbroken. The tool supports all iOS 8 compatible gadgets, including iPhone 4 S – iPhone 6 Plus, iPod touch 5 gen, iPad 2 – iPad 4, iPad Air, iPad mini and iPad mini with Retina display.
Step 1. Backup your iPhone or other iDevice before you begin. You can use iTunes to do so.
Step 2. Turn off your Passcode option in Settings – General – Passcode Lock On because if it is enabled the process might fail. Turn off Find My iPhone app in Settings – iCloud.
Step 3. Install the most recent iTunes version.
Step 4. You are jailbreaking at your own risk, so think twice before you begin.
Step 5. Download Pangu for iOS 8 – iOS 8.1 firmware.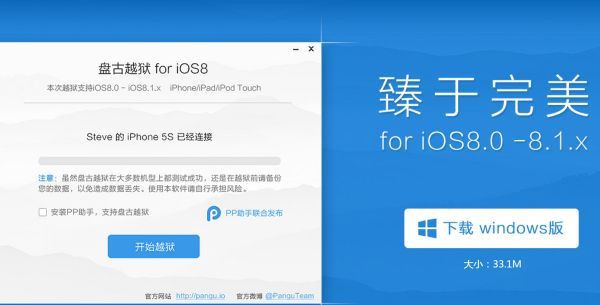 Step 6. You are advised to plug your iDevice to your PC and install iOS 8.1 through iTunes in case you have updated earlier via OTA as OTA update causes jailbreak fail.
Step 7. Run Pangu program as Administrator [you can select this option once you right click on the tool].
Step 8. Don't worry if you see the screens with unknown signs and question marks. This is because your computer doesn't have Chinese fonts. You have to uncheck the checkbox with PP letters. You can see it in the image. Then you need to press the Jailbreak button [the big blue button].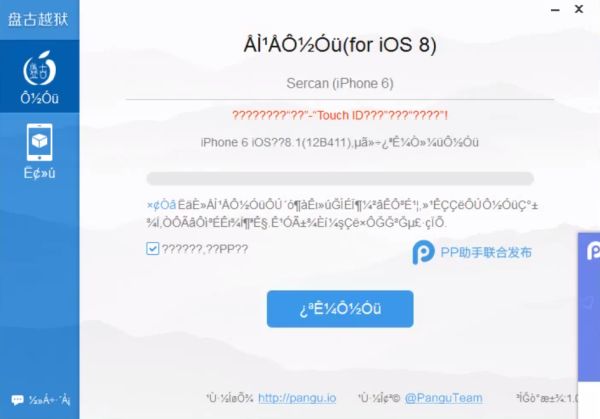 Step 9. The program will perform jailbreak and show you the progress.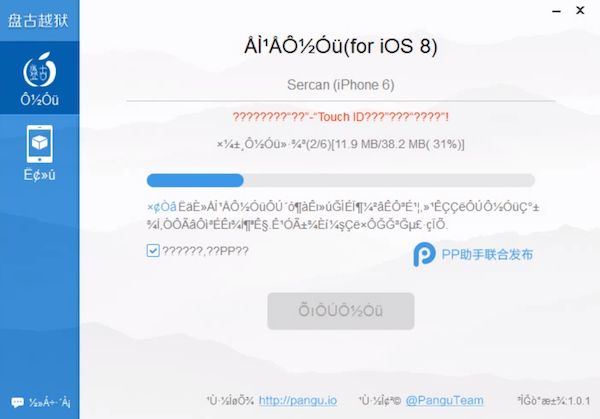 Step 10. Your iDevice will reboot several times. Just wait and wait until Pangu app is on your gadget. Once you see this application you can know that you are jailbroken.