iPhone Fitness Tracking Turn Off / On Instruction
If you wish to save iDevice battery life it will be nice to turn off some of the apps you have on iOS 8 platform. Follow our iPhone fitness tracking turn off guide and also learn how to enable motion activity on iPhone when you want it to. These sensors work great with the Health program but sometimes it is better to control when they should be enabled and when it is time to turn them off.
Fitness trackers don't have to be used 24/7. They are surely great additions to everything Apple offers in its mobile platform but they are not must-run number one apps. They consume battery life and can make you run out of it before you get a chance to charge.
Here is what you have to do in order to disable or turn on Fitness Tracking and Motion on the popular iPhone:
Step 1. If you do nothing, the apps will run in the background because they are turned on by default.
Step 2. Launch Settings.
Step 3. Go to Privacy menu.
Step 4. Find Motion & Fitness there.
Step 5. To disable Fitness Tracking on iPhone simply toggle it off.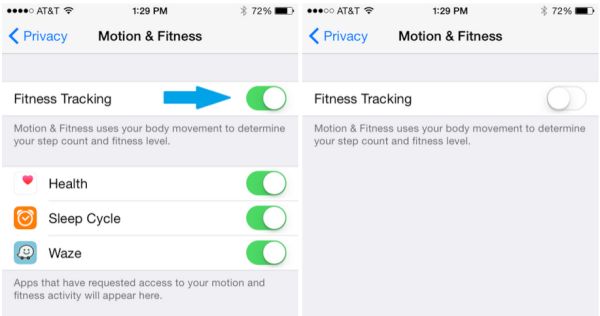 Step 6. Now with fitness tracking being disabled, Health app and other programs that work within this system will stop recording your motion.
Step 7. When you decide you wish to use Health application on the smartphone you will have to toggle the tracking on.
Step 8. It is easy to slide the toggle to On / Off position so you can repeat the steps anytime you want. Enjoy!