Jailbreak iOS 6.1.3 Device on Mac: How to Guide
Users who wish to jailbreak iOS 6.1.3 devices can use the P0sixspwn jailbreaking tool released for different iGadgets running iOS 6.1.3, 6.1.4 and 6.1.5. The instruction is not difficult to use. Just keep in mind that the tool supports Mac machines for now. Hackers promise to release Windows program pretty soon.
We will share a step-by-step walkthrough on how to jailbreak iOS 6.1.3 with P0sixspwn program. This jailbreak is untethered so you have to worry about nothing after you perform the procedure and get a jailbroken handset or tablet device. The tool supports iPhones, iPads and iPods touch. The program currently supports Macs but it will soon be released for Windows platform too.
Eligible for Jailbreak
P0sixspwn works for iOS 6.1.3, 6.1.5 and 6.1.4. It supports all iDevices. Note that A5 gadgets won't get iOS 6.1.x in case somethings goes wrong during jailbreak. You'll have to install iOS 7 only. It is advised to also backup iPhone / iPad using iCloud or iTunes before you start the jailbreaking process. Don't use passcode secure protection to avoid problems after and during jailbreak.
Instruction for iOS 6.1.3 Jailbreak on Mac
Step 1. Download P0sixpwn tool for Mac from here.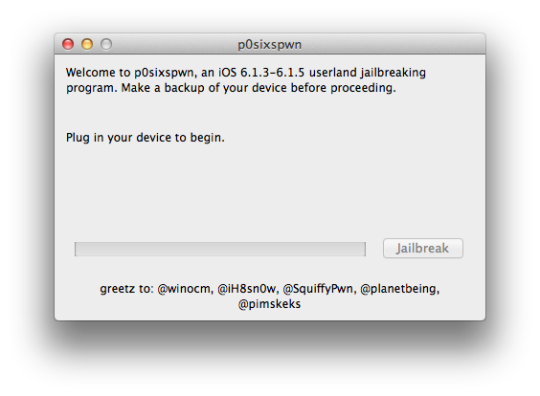 Step 2. Open the jailbreaking program you have downloaded. It should mostly be extracted automatically. If this hasn't happened, just extract it first. Some Macs can prevent you from launching the tool. Open with through right click option.
Step 3. Connect your iDevice to Mac OS X and backup using iTunes. Turn off passcodes [we have advised you to do this beforehand so you might have already done all the preparations for the final jailbreak].
Step 4. Press on "Jailbreak" and wait till your handset or tablet becomes untethered jailbroken. Be prepared to see your iPhone / iPad / iPod touch rebooting several times during the procedure. Everything is done automatically so you are just an observer.