Jailbreak iPhone 3GS iOS 5.1 On Windows [How To]
Here's the guide on how to jailbreak iPhone 3GS iOS 5.1 for Windows with redsn0w. If you're not on iOS 5.1 it's better for you not to update because by upgrading your firmware you'll most likely upgrade your baseband and it will be very hard to unlock it again. If you're experienced jailreaker/hacker try to use custom firmware and update your iPhone without bb upgrade. Please also remember that the jailbreak is still tethered for all iPhones except for iPhone 3GS with old bootroms. So it's up to you to choose between older firmware and  good sleep or the newest features and a need to connect your iPhone to the PC every time it reboots or powers off. If you are sure about your decision then follow our guide.

How to jailbreak iPhone 3GS on iOS 5.1 with redsn0w (Windows):
Step One: Create a folder on your desktop and name it as you wish.
Step Two: Download the latest version of redsn0w (you can get the direct download link in the bottom of this post).
Step Three: Get the iOS 5.1 from here and place it to desktop folder you've created. You don't need to do that if you're already on iOS 5.1.
Step Four: Extract redsn0w to the folder on the desktop.
Step Five: If you're not on iOS 5.1 already – go to iTunes and restore your iOS by clicking Shift+Restore. Restore with firmware you've just downloaded.
Step Six: Launch redsn0w as administrator (right click and choose Run as Administrator).
Step Seven: Push Jailbreak button within redsn0w.
Step Eight: Connect your iPhone to PC with USB cable and launch iTunes (if it doesn't start automatically).
Step Nine: Put the device into DFU mode. If you're not familiar with the process read this instruction, step 7. Or you can follow redsn0w's on-screen guide to do that.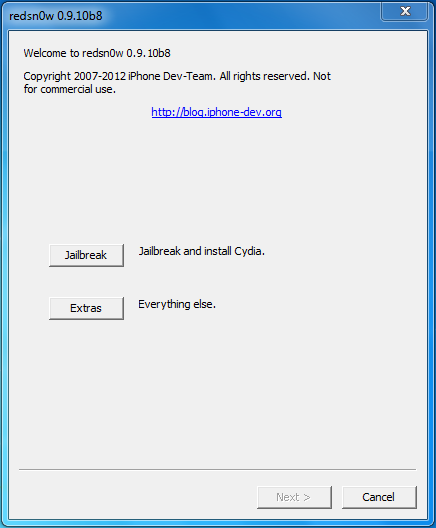 Step Ten: The program will now prepare data required for jailbreak.
Step Eleven: Choose Install Cydia from the options below and push next.
Step Twelve: Redsn0w will now reboot your device again and upload its own RAM disk and Kernel.
Step Thirteen: After it's complete, you'll see a screen with Done! letters on it. Then you'll see Cydia icon on your iPhone's SpringBoard.
How to boot iPhone 3GS iOS 5.1 thethered in redsn0w:
Step One: Run redsn0w and choose Extras in the main menu.
Step Two: Select Just boot within the extras menu.
You're done! Your iPhone 3GS should run fine on iOS 5.1.
If you have some questions concerning this tutorial or have some other questions, please feel free to comment below.