More Than a Million iDevices Jailbroken With the Absinthe 2.0
Finally, we lived to see the new Absinthe 2.0 and now we can easily perform a jailbreak on iPad and iPhone iOS 5.1.1! On Friday, May 25th the famous hackers from the Chronic Dev Team released Absinthe 2.0 that can jailbreak iOS 5.1.1 on almost all iOS devices, even including the new iPad 3. You can perform the untethered jailbreak on an iOS device after downloading the free Absinthe application on any Windows, Mac or Linux computer.
The creators of the Absinthe 2.0 Chronic Dev Team have just said that more than a 1 million iOS devices have been jailbroken after Absinthe 2.0 was released.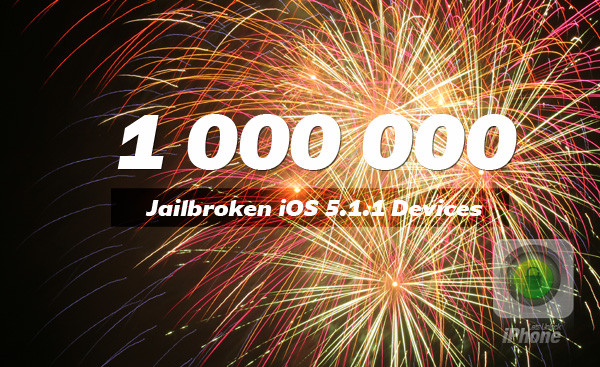 And after the release of version 2.0, the developers pushed out Absinthe 2.0.2 with a support for iOS.5.1.1 build 9B208 jailbreak.
Jailbreaking your iDevice with Absinthe 2.0 is very simple. If you haven't tried it yet, you can use this link and find the quick and simple tutorial on how to perform iOS 5.1.1 jailbreak with Absinthe 2.0 (Windows, Mac, Linux).
Chronic Dev Team has shared the total numbers of jailbroken iDevices with Absinthe 2.0:

This means that about 1,2 million iOS devices were jailbroken with the Absinthe 2.0 jailbreak within just 3 days. A couple of months ago, almost a million devices (953,232) were jailbroken within 3 days by using the Absinthe jailbreak for iOS 5.0.1 and iOS 5. So, among the million of jailbroken iDevices there are:
491,325 new iPhone 4,1 devices
152,940 previously jailbroken iPad 2 devices
308,967 new iPad 2 devices
The explanation for these numbers to be so exact is that one of the housekeeping steps that takes place when you launch Cydia is an issue to @saurik's host for the listing of offered SHSH blobs. That result is something which was shown by the public Cydia repositories – BigBoss repository manager stating that the repo was moving over 1 Gbit of data for every second through 10 hosts because of the launch of Absinthe 2.0.
If you haven't jailbroken your iDevice on iOS 5.1.1 with Absinthe 2.0, you can follow the video tutorial to do so.