How I Fixed No Cydia Icon After Jailbreak iOS 5.1.1 Using Absinthe
May be it is just too late but not for all who are looking to jailbreak iDevice. You can use such tools as Redsn0w or Absinthe. It is indeed no matter which one used but sometimes there is no Cydia after jailbreak iSO 5.1.1 using Absinthe tool on iPhone 4S and iPad 2.
Such a problem is a common issue and many users really got it. But here I can propose you to fix no Cydia icon after jailbreak 5.1.1 on iPhone 4S or iPad 2.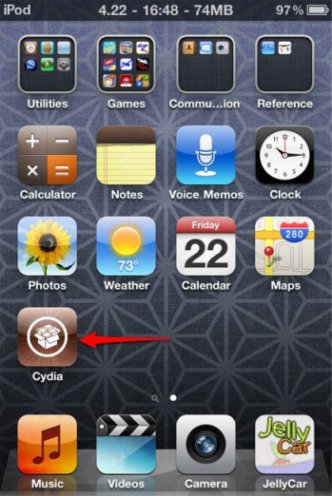 It is not new that you need to do. Just restore your device and jailbreak it again. So let's do this quickly.
How to Fix No Cydia After Jailbreak iOS 5.1.1
Step 1. Download iOS 5.1.1 firmware for iPhone 4S or iPad 2 (it depends which iDevice you want to jailbreak).
Step 2. Now you need to connect your gadget to Mac or PC and open iTunes.
Step 3. When iTunes indicates your device tap on it in the left sidebar of the Window.
Step 4. You will see Update and Restore buttons. We need Restore. Now be careful.
Step 5. Holding Option (Alt) on Mac OS or Shift on Windows press Restore button.
Step 6. Now just choose the firmware you have downloaded in step 1 from the directory where you have save it before.
Step 7. Wait till iTunes will end the process itself.
Step 8. After restoring process you will have not jailbroken iPhone so what you need to do next to fix no Cydia problem. That's right. To jailbreak it.
Well hear i can give you two tutorials guides which you can use to jailbreak iOS 5.1.1 and get Cydia working.
You can use Absinthe jailbreak again to jailbreak iPhone 4S or iPad 2.
Or you can use Redsn0w tool which is may be even better than Absinthe as some say.
You decide which one to choose but I can assure you that you won't have no Cydia after jailbreak 5.1.1 problem any more.