Place Widgets on the Homescreen with Dashboard X Cydia Tweak
Just about every day we hear about more and more new Cydia tweaks coming. Yesterday we told you about an awesome jailbreak tweak WordJelly that brings Siri to iOS totally free. With the help of this amazing tweak people can easily use Siri on older generation devices. Siri is so popular, that more and more developers try to create something similar to it. For this reason so many Siri clones appeared within the last couple of months. Use this link to read about other Siri alternatives.
Jailbreaking the iPhone helps many people to remove the restrictions added by Apple on devices running the iOS so as to get more apps and tweaks, and that is why we have one more really awesome jailbreak tweak called Dashboard X.
So, Dashboard X Cydia tweak allows you to put current widgets from Notification Center to your Homescreen and you're able to put it just about anywhere you like without the need to launch them, saving yourself a couple of taps and swipes.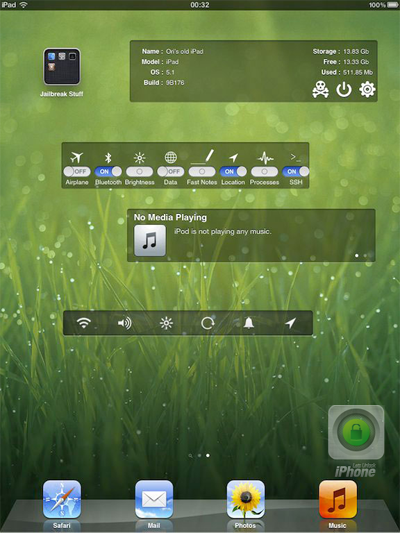 For instance, you may add SBSettings widget or even Weather widget from the Notification Center and put it to your homescreen. You can also find a lot more widgets available in Cydia. The new Dashboard X Cydia tweak created by Ori Kadosh, and as for me, it is a superb Cydia Tweak for adding floating widgets to your iOS homescreen.
Putting widgets on your Dashboard or SpringBoard is incredibly easy and requires entering "wiggle mode" and after that just holding your finger down on your iDevice's screen. This will bring up a list of installed widgets from the Notification Center which you can select and then move around on your SpringBoard.

Place widgets on either your dashboard which you may invoke with Activator or on the homescreen together with your icons
Works together with Dashboard X special widgets
Full support for current widgets in the Notification Center
Move widgets around, put them anywhere you want
There's also a Dashboard X add-on called Clock Widget cydia tweak, could be placed just about anywhere on your own homescreen. It's a simple enough looking electronic clock with a clear background, which can be used from the Dashboard X menu. To find out more about this add-on, you may go to this link.
Dashboard X Cydia tweak is available in Cydia for $1.99. It is suitable for iOS 5 and higher on all iDevices.