How to Recover iPhone Videos and Photos from Backup [Instruction]
It can be really painful to lose your iPhone. This smartphone keeps all your personal information, tons of photographs and video files that can be so important to you. Is there a way how to use iPhone backup to recover photos or videos if you don't have your smartphone? Yes, there is but you have to remember to backup everytime you have got more images and other files [you can also delete backups from iCloud once in a while]. It is possible to backup through iTunes and iCloud.
We'll explain how to recover photos from iPhone backup. This same instruction works on video recovery as well. Here is what you should do. There are several methods. We'll mention two so you have an alternative.

How to Recover iPhone Videos from Backup
Step 1. There is a number of third-party programs that can get your files from previous backups even if you don't have your iPhone, if it is broken, stolen or lost. Most tools are not free but you can find some with free trial period. For example, take a look at iBackup Extractor that provides the free period of usage and allows extracting up to 50 items at no cost.
Step 2. Download the app you'll choose.
Step 3. Install and run the tool.
Step 4. The program should automatically search the PC or Mac [check for what platform you are downloading the tool that can recover photos or videos from iPhone backup] and find the available backups for you.
Step 5. You should choose what you want to recover and extract the files.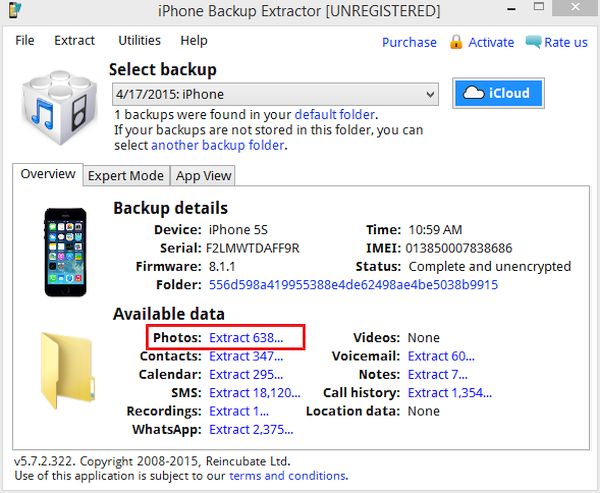 iPhone Photo and Video Recovery with Friend's Help
Step 1. Borrow the iPhone from your friend and connect it to your computer.
Step 2. Back it up before you continue.
Step 3. Use iCloud or iTunes to restore this smartphone to your backup [not the backup you have just created].
Step 4. Once the smartphone gets all your videos and photos [the ones you have backed up before you lost or broke your own handset] you can transfer them onto your flash drive, cloud service or computer.
Step 5. Are you done? Remember to restore your friend's gadget to its own backup.
You see how important it is to back up and keep all your data stored for future recovery.