Use RedSn0w 0.9.11b2 To Jailbreak Untethered iPhone 4S and iPad 2 [How to]
This post I wrote specially for those who had performed downgrading iOS 5.1.1 (iOS 5.1) to iOS 5.0.1. on iPhone 4S and iPad 2 or for those who are still running 5.0.1 on A5 gadget. And now you want to perform untethered jailbreak.
If you haven't downgraded your A5 gadget yet then visit my article on how to perform downgrading process on iPhone 4 S and iPad 2. Updated RedSn0w 0.9.11b2 can make it fast and easy.
But here you will find out how to untethered jailbreak iPhone 4S or iPad 2 using RedSn0w 0.9.11b2. I will show you how to do that on Windows and Mac, so you have to download RedSn0w 0.9.11b2 and follow my steps. As I said before this tutorial is for A5 devices (iPhone 4S and iPad 2) running iOS 5.0.1 (iOS 4 also supported).

Requirements
Your iPhone 4S (iPad 2) on iOS 5.0.1
RedSn0w tool
USB
How to Untethered Jailbreak iOS 5.0.1 using RedSn0w 0.9.11b2
Step 1. Download latest RedSn0w 0.9.11b2 for Mac and Windows here and extract (unzip) file to the desktop or to any folder you like.
Step 2. Connect you iPhone 4S (iPad 2) to the Mac or PC using USB.
Step 3. Open RedSn0w. If you are Windows user then open it As Administrator (click right button on your mouse and choose).
Step 4. When window of RedSn0w 0.9.11b2 appears you will see two buttons in the center of the window so click Jailbreak.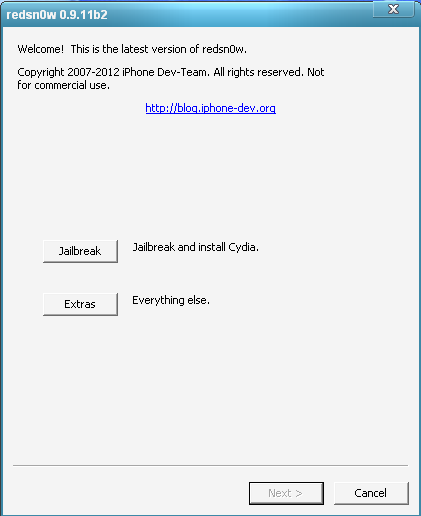 Step 5. After pressing Jailbreak a new window pops up asking you to approve 'jailbreak' profile also your device will show an alert.
Step 6. Now click Install and Install now on your iPhone 4S or iPad 2. When you see the field asking for the password miss it and click Next (in the upper right corner).
Step 7. Now RedSn0w is preparing your gadget to jailbreak and new windows must appear. It will ask you to turn on VPN in Settings to trigger the jailbreak install.
Step 8. Go to Settings on your iPhone 4S or iPad 2 and turn on VPN option which is displaying connecting…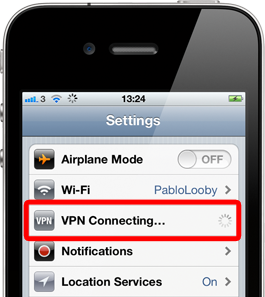 Step 9. Don't pay attention on any errors regarding VPN just sit back and relax. RedSn0w 0.9.11b2 will complete the jailbreak automatically.
Step 10. When you see the message that jailbreaking process was successful wait till your gadget reboot.
Update: There also is new version of RedSn0w 0.9.11b4 that was developed to support tetherd iOS 5.1.1 jailbreak on A4 devices. Here are download links (direct) and more info about RedSn0w 0.9.11b4.
And that's all. After rebooting just launch Cydia and enjoy your untethered jailbroken iPhone 4S or iPad 2 with RedSn0w 0.9.11b2.