Spite 3.0 Cydia Tweak Updated To Work With iOS 5.1.1
The update for Spite 3.0 Cydia tweak allows this Siri alternative to work on all devices with iOS 5.1.1. Few days ago we were informed that Spire won't be working on iOS 5.1.1. That fact is very disappointing for those who were using Spire on devices with iOS 5/5.0.1 because this tweak is one of the best Siri ports up to date. Maybe.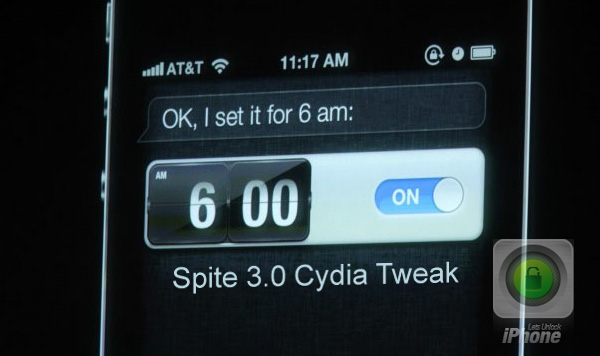 However, if you're a fan of Spire and want it to work on your iGadget with iOS 5.1.1, there's good news – Spite 3.0 Cydia Tweak comes for the rescue. Don't forget that you have to jailbreak your iOS 5.1.1 before taking any further actions. Cydia must be also installed to give you access to Spite 3.0 download and installation.
Update: Try new Spire 3.0.1-1 specially for untethered jailbroken iOS 5.1.1.
This tweak is a very similar to Spire voice assistant alternative. Sometimes Spite is even faster (which is a huge advantage really). So until Spire is not available on the newest iOS you can use Spite 3.0  on your non-4S device. The iJailbreak source posted an instruction forcing you to pay $5 and tell your device's UDID to some suspicious third party persons on vip repo. We won't repeat their mistake and tel you how to do that for free.
How to install Spite 3.0 Cydia Tweak on iOS 5.1.1

Caution: we're not responsible for any steps you make in this case. Perform everything at your own risk.

Step One: Follow this direct link for downloading the .deb package with tweak. Follow those tutorials (Windows/Mac) to install it to your gadget. Or you can alternatively use this repo:

http://matlink.myrepospace.com/

to install Spite 3.0 directly from Cydia.

Step Two: Go to Search tab and find 'Spite 3.0'. Install the package.

Step Three: After installing you need to reboot your iDevice.

Now you have installed the working Siri-like GUI on your iPhone/iPad/iPod Touch. The next step you need to perform is to find a working proxy server and set it up correctly. You can find Siri server here or visit this site to get your virtual assistant up and running.

Now you have the fully working Siri alternative installed on your iDevice running iOS 5.1.1.

Share you thoughts about the tweak and its working quality as there were few issues with it before that led to device's reboot and stuff like that. We're very curious about Spite 3.0 stability. Let us know in the comment section below.