Upload Pictures to Safari on iPhone iOS 6
Hi everyone who has already updated or plans to update to iOS 6 in the nearest future! Now we're going to find out how to upload pictures to Safari on iPhone with iOS 6 installed. That means you can upload pictures to web-sites, forums and so on directly from your browser. Here I'll explain how to upload the picture to any site or forum.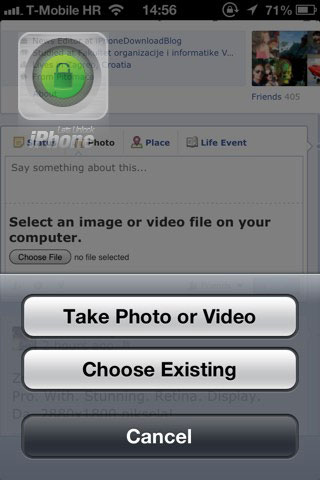 Once you are on the desired website exactly on the page you want to attach an image to make sure the site version supports allows to do that. In case if you aren't sure the mobile version of the site can support you with this task – switch to full version of the site. Of course this function has nothing in common with html or other code editing that's why you need a text field or other input field in order to upload a picture to Safari on iPhone.
As soon as you tap the field you will be taken to iPhone's input menu where you can enter the text and after that choose a picture to upload. In iPhones operated by iOS 5.x such function was disabled which is pretty ridiculous because even ancient Nokia N73 had such an option. So after tapping on the upload button you'll see a popup menu with two options: take a photo or video and choose existing. Tap the last one and you will be redirected to your iOS 6 Photos app. Choose the picture you want and upload it. Now tap the upload (or whatever it is) button on the site forum you're on and you're done. That's really pretty easy, isn't it?
Apple is really too late with this function as most of other smartphones has such possibilities so we can't call it revolutionary anyway. But on the other side it's good that Apple developers added this option though.
How would you use this function that allows to upload pictures to Safari on iPhone with iOS 6 on board? Will be the forum posting now much easier for you? Tell us in the comments below.