Useful iPhone Error 53 Fix Guide: iOS 9.2.1 Upgrade
Finally Apple released a real iPhone error 53 fix. A lot of users suffered from this problem that appeared once they repaired the iPhone 6 / 6s / 6 Plus / 6s Plus at unauthorized shop. The Cupertino-based giant released a new mobile firmware update and once you install it on the handset you should solve the problem with error 53.
Users who have iPhone 5s and earlier models didn't have the issue because their gadget has no Touch ID option. Apple assured that its phones have to include only authorized parts. Still the company found a way how to fix error 53 without switching smartphones.
Users with the bricked device have to download iOS 9.2.1 update. Apple offers iOS 9.2.1 version 13D20 and this is what has to help you. Follow the guide and get your handset to work again.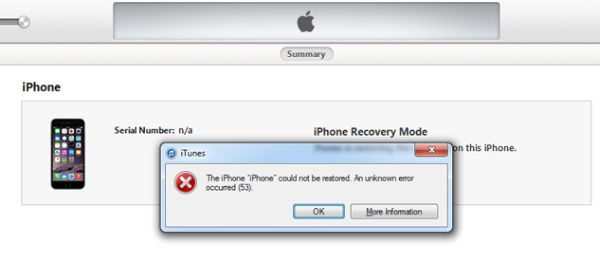 How to Fix Bricked iPhone Caused by Error 53
Step 1. Update iTunes to the most recent version on your computer.
Step 2. Use USB cable to plug bricked iPhone 6 / 6s to your PC or Mac.
Step 3. iTunes will see the bricked phone.
Step 4. Choose iPhone in the iTunes menu and be very attentive.
Step 5. You have to hard restart [force reset] the iPhone. You can mange this by clicking-holding your Power or Sleep / Wake button. Keep holding this button and at the same time press Home button. Wait for your screen to enter reboot state and show Apple logo.
Step 6. Once the gadget has restarted you should choose Restore iPhone option on iTunes. Note that this way you'll delete all information from the gadget. If you don't want to wipe your data you should hold Shift [Alt / Option] depending whether you have Windows or Mac computer and choose Check for Update feature. You'll have to download iOS 9.2.1 build 13D20 ipsw file beforehand and save on your computer and point to this file.
Step 7. Choose Download and Install – Agree to Terms and Conditions and wait for iTunes to upgrade your iPhone mobile firmware to version that fixes brick error 53.
Was it easy for you?