[WWDC 2013] https://developer.apple.com/ IS Down at The Moment
Apple's developer site is apparently getting hammered by people trying to download previews of iOS 7 and OS X Mavericks.
Apparently a lot of developers are eager to get their mitts on preview versions of Apple's next iOS and OS X software.
Enough are visiting the site to bring things to a screeching halt. Users who attempt to make their way there are currently getting page load errors, as well as a page that tells users "We'll be back soon."
This has happened plenty of other times, and is expected to be sorted out, though Apple's currently offering no guidance on when. Additionally, its fancy system status page for its services, stores and iCloud, does not include its developer sites and services.
Users must be a registered Apple developer to install either of the two previews, and the software itself requires agreeing to a non-disclosure agreement.The developer site will be the first and — for a while — only place to get downloads of iOS 7, and OS X 10.9 "Mavericks," which Apple introduced at WWDC earlier today. Both pieces of software are headed for a public release later this year. Apple's giving developers early access to fine tune their apps, and help squash bugs before the public release.
Perhaps making the outage more impressive is that iOS 7 won't work with all of Apple's iOS devices out the gate. Apple on Monday said the beta would only be for the iPhone initially, with betas for the iPad and iPod Touch to follow. Apple's also ratcheted up the minimum hardware needed to be able to install the software, which will work only on the iPhone 4 and later, iPad 2 and later, the iPad mini, and fifth-generation iPod Touch.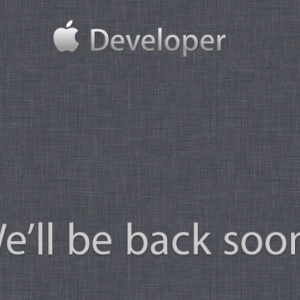 What developers see trying to get onto Apple's developers site, currently.