A major update to Apple's
mobile operating system is iOS 8
. A high percentage of users seem to be having battery life problems after upgrading to iOS 8. It because updating to new software and upgrading to new phones can often have an impact on battery life. it is difficult to find out what exactly is causing a problem. Check out this  iOS 8 battery drain fix tips. Maybe it will help you in fixing the battery life problem on your iDevice:
1. Battery usage
Apple has added the naming
feature in iOS 8
, which gives you a break down of battery usage by apps. Follow these instructions to identify the app that eats battery energy. Find battery usage in iOS 8 •    Launch the Settings app •    Tap on General •    Tap on Usage •    Tap on Battery Usage This will open all the apps and internal services that are applying to
battery on your iPhone
. The battery usage provides you information about how much battery is consumed by various apps and services on your iDevice. By default it shows the app that eats battery energy in the last 24 hours. You can also check it in the last 7 days.
It is important that an app with a high percentage battery usage is not necessarily the app that eats battery energy. It could be because you were using it a lot, or if it was running in the background to upload or download content. If you have identified an app that eats battery life on your device do next: •    If you can live without this app - delete it. •    Force close apps that you really don't want to use. •    If you want to use the app, then you should seriously look at disabling Location Services (Settings > Privacy > Location Services) and Background app refresh (Settings > General > Background App Refresh) features for the app as they can end up consuming battery life.
2. Turn off Location Services, Background App Refresh
You'll need to stop using some of the features you don't really need in order to keep using the ones you do. The more you turn off, the longer your battery will last. •    
Turn off Location Services
. GPS requires a huge amount of power. If you suspect location services are chewing up your battery when you're not using them thendo next. Go to Settings, Privacy, Location Services, and turn off any app and system service you really don't need tracking or using your location. •    Turn off Background app and content refresh. Any background download will use battery. If you need power more than you need fresh content, go to Settings, General, Background App Refresh shows you everything you can turn off. Also go to Settings, App Store and turn of automatic app and content downloads.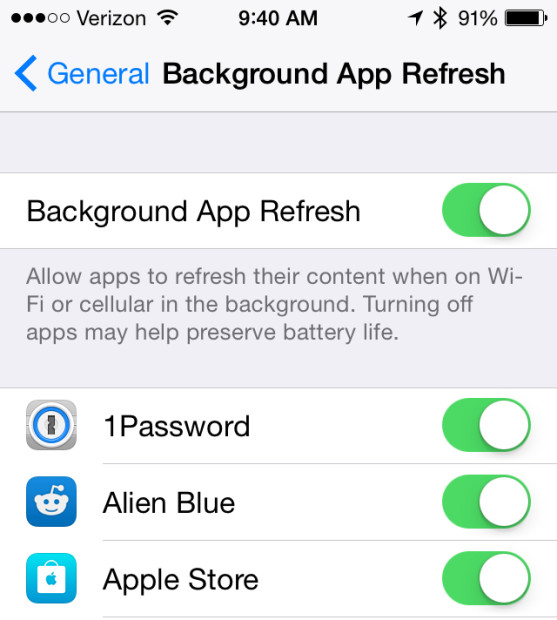 4. General Tips
Please note that the tips under section are to highlight areas where you could disable things that are not applicable to you so you can maximize battery life. •    Notification Center Widgets The Today tab in Notification Center includes features such as Today Summary, Tomorrow Summary, Stocks widget and any other
third-party Notification Center widget
you may have added. You should review the list and remove the widgets that you don't want to use. Swipe down from the top edge of the screen to access Notification Center. Then tap on the Today tab, scroll down and tap on Edit button. Tap on the red - button to remove the widget from the Notification Center. •    Turn off Dynamic Wallpapers Dynamic wallpapers brings subtle animations to the home and the lock screen. The animations takes up CPU cycles and consumes more battery. So if dynamic wallpaper is working, and you're having battery issues, go to Settings > Wallpaper > Choose Wallpaper. •    Disable App Store's automatic updates App Store automatic installs app updates in the background. but if you don't want to update all your apps, you can turn this off. Go to Settings > iTunes and App Store > scroll down to the Automatic Downloads section and turn off the "Updates" switch. You can also tell iOS here to not use cellular data for automatic downloads and iTunes Match streaming.
•    Disable Motion effects, parallax There are a number of animations and physics-based effects to the interface in iOS 7 that help users understand the layered elements in the UI. Some of these effects needs battery energy. You can disable these motion effects by going to Settings > General > Accessibility > Reduce Motion and turn on the switch. •    Turn off Push Notifications Go to Settings, Notifications, and turn off any app you don't care to be alerted about. •    Disable unwanted indexing in Spotlight search Spotlight searches a lot of types of content like Applications, Contacts, Music, Podcasts, Mails, Events etc.. You might use it only for contacts, applications and music. So uncheck the type of content you don't want to search. Go to Settings > General > Spotlight Search. •    Turn Off LTE/4G If you live or work in an area that has poor or no LTE coverage. Then you need to turn off
LTE
(Settings -> General -> Cellular -> Enable LTE/Enable 4G).
5. Restore iPhone
If you've setup your iPhone by restoring from backup then the battery life problems could be due to some issue with the backup. Try to restore your iPhone.
Go to iTunes and restore iPhone
. And set it up as a new iPhone (not from the backup). Take a backup of your iPhone using iTunes or iCloud, or selectively take a backup of your photos and videos using Dropbox or Google+. And now erase all the contents and settings. Hope these advices will help you with iOS 8 battery drain fix.
6. Troubleshooting
•    Restart/Reset Your iPhone Hold down the Sleep/Wake button and the Home button at the same time for at least ten seconds, until the Apple logo appears. •    Resetting Network Settings Reset network settings by tapping Settings -> General -> Reset -> Reset Network Settings. This will reset all network settings, including passwords, VPN, and APN settings. •    Battery Maintenance The Apple service advices users to go through at least one charge cycle per month. Charge the battery to 100% and then completely running iPhone down. So if you haven't done it already, maybe you should do it now. Power cycling your device helps in recalibrating the battery indicator more accurately.
Software List
LetsUnlock Services List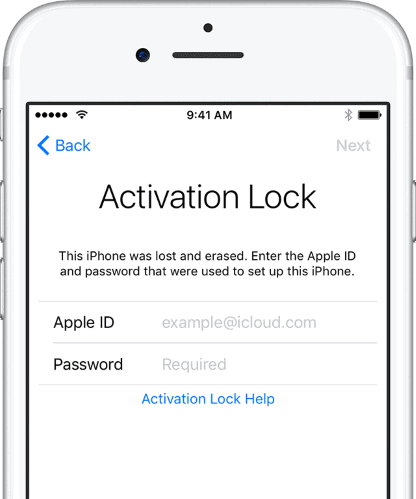 iPhone & iPad Activation Lock Bypass
Use LetsUnlock iCloud Tool to bypass Activation Lock Screen on iPhone and iPad running on iOS version up to 14.6.
Read More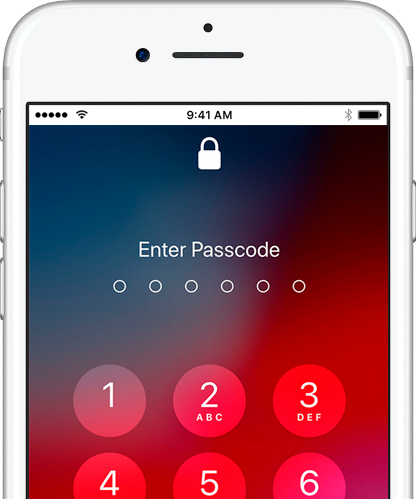 Unlock Passcode Disabled iPhone or iPad
LetsUnlock iCloud Tool is ready to remove Find My and unlock your passcode disable device running on iOS 13.x.x in one click!
Read More