Finally I found the unlock for iPhone 4 on baseband 04.11.08 that could work. You can try it on your iPhone while following my guide. There are a lot unlocks for iPhone 4 and are not esay to perform. In this case you need detailed
step-by-step tutorial
on how to unlock iPhone 4 baseband 04.11.08 runing iOS 5.0.1 using SAM unlock method. Now I'm going to describe how this easy steps should worked, but you have to try several times to get this unlock method works. This
04.11.08 baseband unlock
method was discovered by Hamzah Akram developer. Here is what he said about this unlock:
This baseband 04.11.08 unlock will work if understand how steps done the unlock!. If not worked just keep trying because it worked for me with two locked MC318LL iPhones 4 in iOS 5.0.1 and it worked for me.
This guide is clamed to work on iPhone 4 baseband 04.11.08 with following networks:
UAE : DU, Etisalat
Jordan: Orange, Zain,Umniah
I will try to perform 04.11.08 unlock using USA T-Mobile SIM. Note that this 04.11.08 baseband unlock exploit might deactivate your iPhone 4, so if you don't have official SIM card distributed with your locked device, then don't try to perform this. LUI (geo-location.site just try to create step by step guide on how to perform baseband unlock based on @hamzah_akram instructions.
iPhone 4 baseband 04.11.08 unlock Requirements:
Jailbroken iPhone 4, running iOS 5 or iOS 5.0.1 on baseband 04.11.08
Original iPhone 4 SIM (Mine would be AT&T) or Gevey SIM
SIM card with constant data availablity. Check it with unlocked mobiles if it has constant data, because if not, it won't work
SAM package from Cydia (included)
How to unlock iPhone 4 baseband 04.11.08 using Reactor
Step 1
: Launch Cydia on iPhone. Then click on manage tab =>sources => edit => add => and enter 
http://repo.bingner.com
 Once done don't forget to save settings. Navigate to Bimger repository (source_ and search for SAM package, then install SAM (restart springboard)
Step 2
: Setup your iPhone 4 settings as following:
WIFI = ON
Data Roaming = ON (Settings => General =>Network
Cellular Data = ON
Location Service = OFF
Quick Notes about SIM Cards:
AT&T (official iPhone Carrier)
T-Mobile (the carrier which we'll use to unlock the iPhone)
Step 3
: Open SAM then go out the app using home button "LET IT OPEN". First of all you need to go to
www.unlockit.co.nz/mobilesettings
(in your iPhone) and download your unofficial carrier profile (mine would be T-Mobile).
For iPhone Automatic Setup go to: http://www.unlockit.co.nz from your iPhone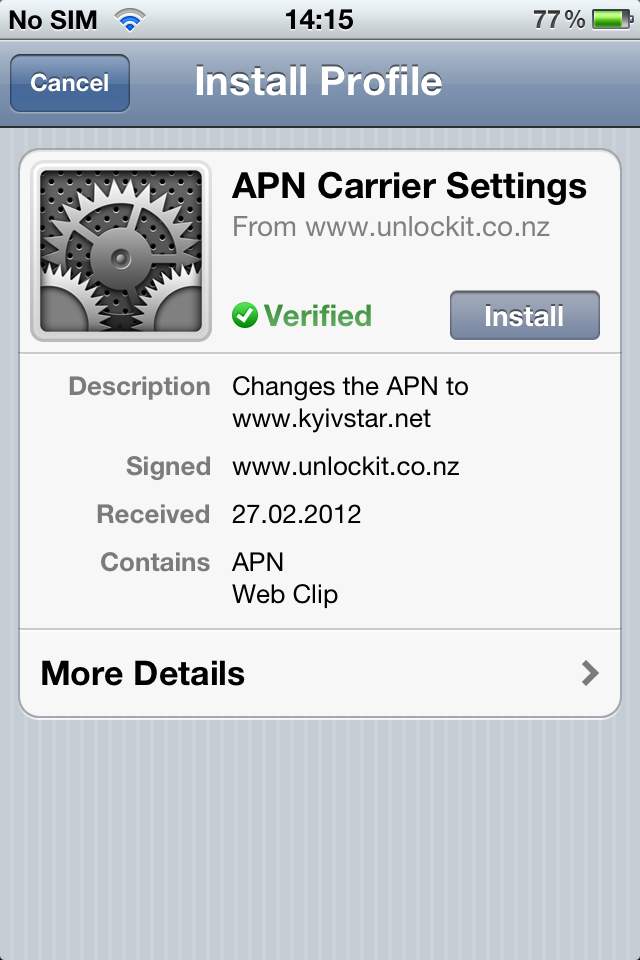 Step 4
: Insert your official iPhone SIM CARD (mine is AT&T) and try dial any number. If there's no service then just dial 112.
Step 5
: On iPhone 4 navigate to Settings => Carrier and turn of "auto search" function. Then select the network which you will use to unlock iPhone 4 in the next steps (mine would be T-Mobile). During this process you could get "Restricted network" error message. Hit dismiss and then go back to the main iPhone 4 settings menu.
Step 6
: Turn ON AirPlane Mode on iPhone 4. Now go fast to SAM => UTILITIES => and press DE-ACTIVATE iPhone. De-Activate iPhone (Clear push) Revert Lockdownd to Stock. Now go back check if SAM is in "Disabled" mode. Important: after this step you have to forget wireless networks, you are connected to and turn off auto WIFI connection.
Step 7
: Go to Cydia => Manage => Sources => Bingner, search for SAM and then uninstall SAM. Don't press "restart springboard" for now, just use home button. Now navigate to Settings => WIFI => forget the WIFI network you are connected to.
Note
: please make sure the Airplane mode is turned ON during this step. Now eject the official iPhone Carrier SIM (mine is AT&T). You will get "NO SIM INSTALLED" warning, just close it.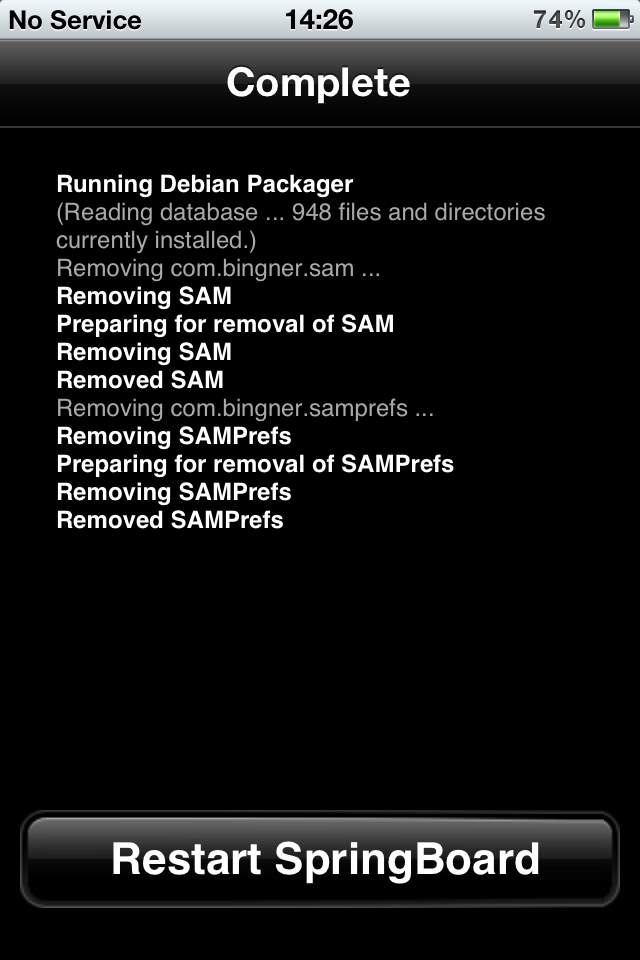 Step 8
: Now go back to Cyida and get ready for inserting the next SIM card into iPhone 4. (mine is T-Mobile). When you open Cydia, there should be "Restart Springboard" warning, generated from the previous step. Tap Restart Springboard and insert the (T-Mobile) SIM just before the Apple logo will appear. Ofter this step you should see iPhone activation screen.
Step 9
: Reboot your device. After the reboot you should see the SAM activation screen and your iPhone 4 connection signal should be just ONE BAR STRENTH as described on picture. After you'll see "use cellular connection" warning, just tap it and wait for approximately 5-8 seconds.
Step 10
: Reinsert your SIM card fast. You will be redirected to iPhone home screen with full signal bar of unlocked network. Now go fast and call any Carrier Service Call Center number for about 1 minute. Now go to iPhone Settings => General => About and check your device carrier, it should be "Carrier 11.0". Now you are on
unlocked iPhone 4 04.12.01 baseband running iOS 5.1.1
. This was step by step guide on how to unlock iPhone 4 baseband 04.11.08 based on Hamzah Akram suggestions. I really tried this guide for several times but always receive activation error from step 9. So please use comments area of this article to confirm this guide is working well.
Notes:
You can reinstall SAM and get back Push notifications, iMassages and  FaceTime. Update: another tutorial to unlock iPhone 4 baseband 04.11.08 using
React0r
from Cydia.
Software List
LetsUnlock Services List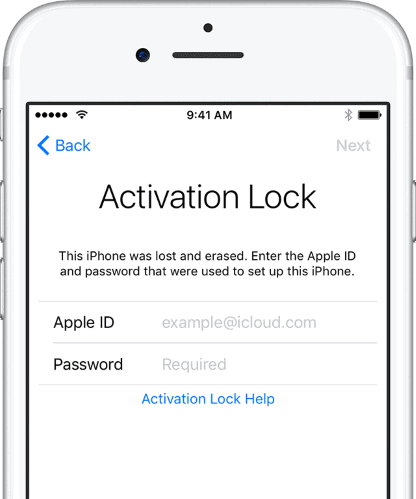 iPhone & iPad Activation Lock Bypass
Use LetsUnlock iCloud Tool to bypass Activation Lock Screen on iPhone and iPad running on iOS version up to 14.6.
Read More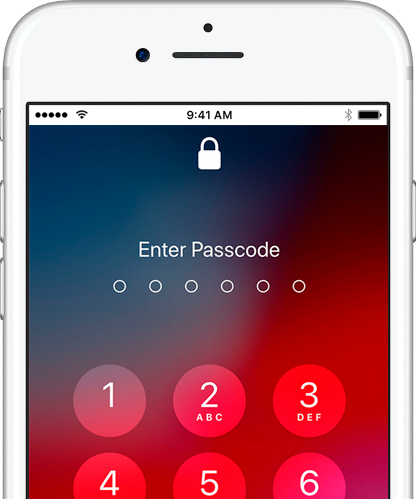 Unlock Passcode Disabled iPhone or iPad
LetsUnlock iCloud Tool is ready to remove Find My and unlock your passcode disable device running on iOS 13.x.x in one click!
Read More