When you become an Apple fan you start liking all the products the company releases. For example, a lot of users who have the
iPhone 7
or other model also own Apple Mac, iPad or ATV. Those people who prefer Mac to regular PC or laptop also prefer getting the iPhone among all the many smartphones available in the market. So if you are also enjoying 'fruit' devices you should think about making your Apple account more secure. With Apple ID two factor authentication you can achieve this goal. Let's see how you can enable and disable this feature on-the-go. It is as easy to turn off two step authentication as to turn it on [learn how you can
enable wireless charging on your iPhone 7
]. Since you might experience various Apple two step verification problems depending on your firmare version, software issues and common bugs you might need to enable and sometimes disable the popular option. This can be done really fast so you can deal with possible problems as quickly as possible.
Is Apple ID Authentication Required?
The Cupertino-based giant introduced its security update so that users get another option for how to verify their Apple ID account. There are so many hackers and bad people who perform various cyber crime that the extra protection is required by a lot of mobile device users. You can protect both iCloud account and Apple ID using the Apple ID authentication [you can
restore Apple ID
in case it is lost]. When you enable it you'll be able to log in to your accounts on the computers and handsets you trust. If anyone ever steals the password you are using he or she won't be able to access your accounts. Does it sound reassuring enough to give it a try? The feature provides you with a 6-digit verification code that is shown on the device you trust every time you access your accounts from a new gadget. For example, you sign into a new phone or computer. You'll have to enter both your regular passcode and also provide the extra code displayed on one of your trusted gadgets.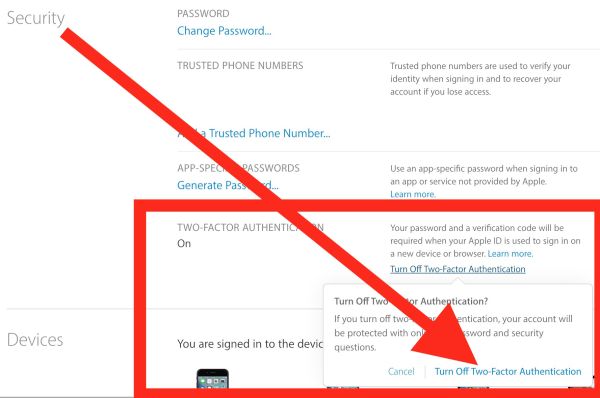 How to Turn Off Two Step Authentication from iPhone
It is pretty easy to disable or enable this feature. Follow our Apple ID two factor authentication turn off guide (below you'll find the turn on instruction) and you'll disable this option. Step 1. Go to Settings on your iPhone 7 and choose Settings where all the changes are applied.

Step 2. Click on iCloud [learn
how to bypass iCloud activation bug
] and select Apple ID – Password & Security.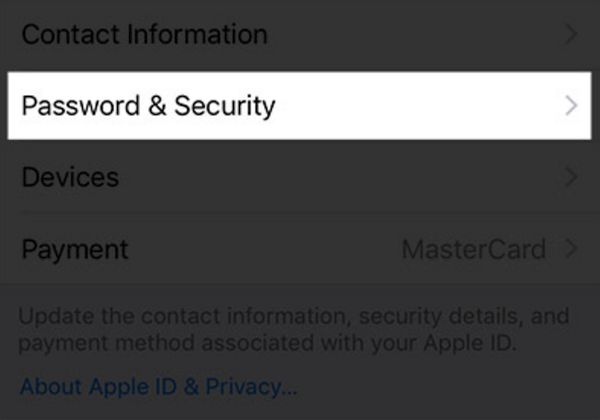 Step 3. Now you should click on Turn Off Two Factor Authentication on iPhone. Step 4. That's it.
2 Factor Authentication Set Up Guide for iDevices and Mac
In case you haven't set up the extra protection, you need to do so because you can turn on Apple ID two factor authentication from your phone, tablet device or Mac. Step 1. Make sure your iPhone or iPad (the one you are using for setting up your 2-factor authentication) is running iOS 9 or
iOS 10
. Earlier firmware versions are not supporting this feature. Step 2. Select Settings. Step 3. Choose iCloud section. Step 4. Click on Apple ID and choose Password & Security option. Step 5. You'll see the option called Turn On
Two-Factor Authentication
. Click on it.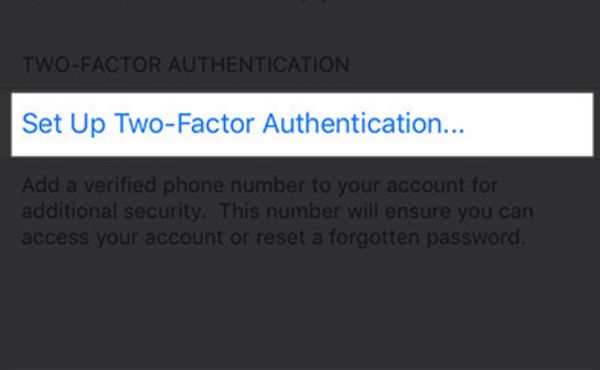 Step 6. Now press on Continue and you'll get on-screen guide on how to set up this feature.
Here is how to turn on 2 factory authentication from your Mac:
Step 1. You need to make sure your Mac is running OS X El Capitan platform or newer system. Step 2. Press on your Apple menu on your computer. Step 3. Select System Preferences to proceed. Step 4. Choose iCloud section. Step 5. Select Account Details. Step 6. Press on Security section. Step 7. Enable the option Turn on Two-factor Authentication. Step 8. You now need to choose Set Up option. Step 9. You'll get security questions to answer. There will be on-screen walkthrough. Step 10. Provide your smartphone phone number. Choose to Continue. Step 11. Press on Done since you have successfully set up and enabled the extra protection for your Apple ID from your computer. Do not mistake that 2-factor authentication with two-step
verification option
as these are two different features.
Software List
LetsUnlock Services List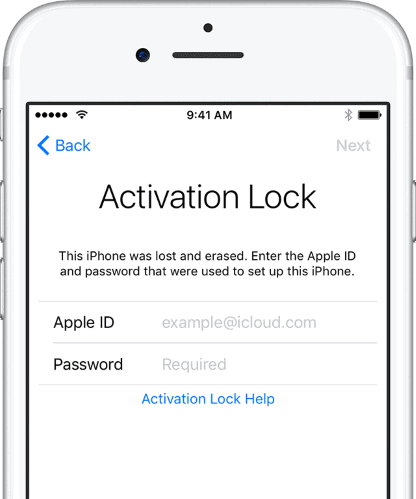 iPhone & iPad Activation Lock Bypass
Use LetsUnlock iCloud Tool to bypass Activation Lock Screen on iPhone and iPad running on iOS version up to 14.6.
Read More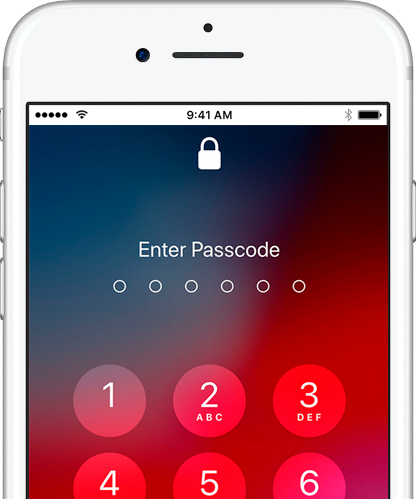 Unlock Passcode Disabled iPhone or iPad
LetsUnlock iCloud Tool is ready to remove Find My and unlock your passcode disable device running on iOS 13.x.x in one click!
Read More