Apple Financial Results in Q1 2015 Officially Revealed
The famous iPhone maker reported its Apple financial results for Q1 2015, and all customers and anyone who is curious to peer inside this report can do this right now. The numbers posted in this document are very impressive. Just imagine this, the Cupertino-based giant got the quarterly revenue of more than $76 billion!
Apple financial report for the first quarter in 2015 also brought the company the net profit of $18 billion. Comparing these Apple sales 2015 to the same period in 2014, you can notice a huge difference. A year ago the iPhone maker got over $57 billion of revenue and over $13 billion of net profit.
What brought the company such great revenue in Q1 2015? The closer look at numbers unveiled by the iOS giant will give you answers to this and many other questions.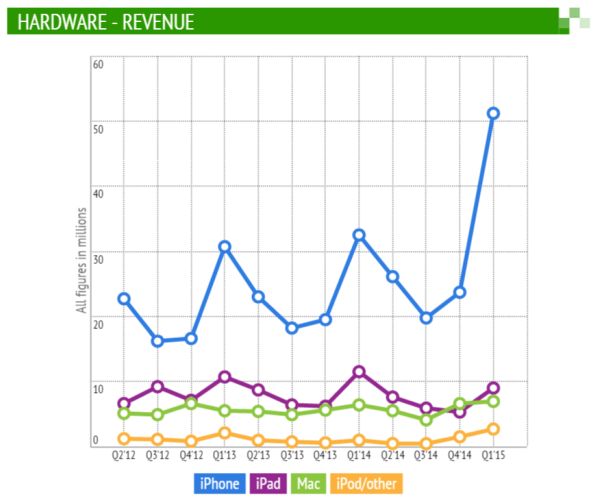 Apple sales of iPhone models reached over 74 million devices which is way more compared to Q1 2014 [the company sold 51 million units of smartphones back then]. Users were buying over 34 thousand of iPhones each hour! Doesn't it sound unbelievable? If taking into consideration the fact that this iDevice is available with 375 mobile networks, this gives customers a big variety of choices.
The same quarter helped Apple to sell over 21 million of iPad tablets and over 5 million of Mac computers.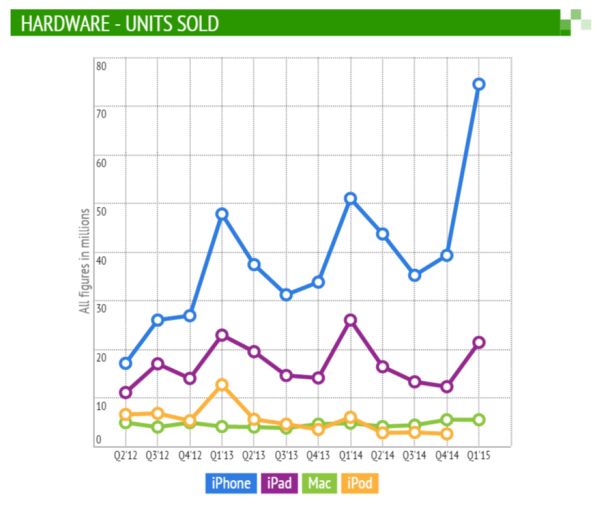 The new mobile payment service, Apple Pay, introduced in the fall of 2014 also became more popular in Q1 2015. According to the California-based company, about 750 credit unions and banks have already signed up for this service. Americans use Apple's system often and, judging by the report, spend every $2 out of $3 on purchases made with contactless payment via Apple Pay.