Apple Store Revenue Prediction for 2016 and 2017 Wows
We've seen Apple Store revenue prediction that states that the company can double its earnings by 2018. The information comes from App Annie and IDC. Their forecast also mentions in-app ad tripling in 2015, 2016 and 2017. The similar numbers are mentioned for Play Store by Google.
As experts think, the records set by Apple in Q1 2015 when the company generated over $10 billion in revenue would double in the next several years. The iPhone maker that still benefits from offering its iPhone 6 and bigger iPhone 6 Plus released in the fall of 2014 will earn even more by 2018.
The first week of this January helped the Cupertino-based giant get the highest billings in its history. In just one week the company made over $0.5 billion and this was during holiday season when a lot of customers were purchasing the new smartphones as gifts.
These numbers are considered conservative by App Annie experts. They also note that the predictions made in the past didn't promise Apple such huge revenue that exceeded any forecasts made.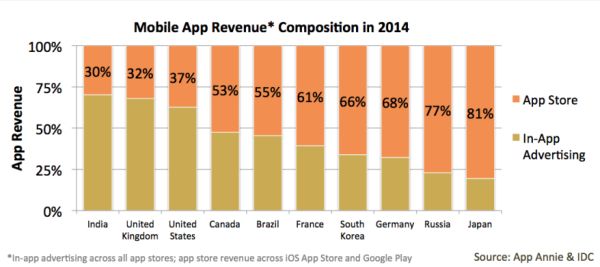 Users are also believed to use more free applications and games in the future, the ones that have in-app purchases but cost nothing to download and install. In-app ads will triple by 2018 but they will vary from region to region just like it happens now.
For example, customers in Japan and Russia add less than 25 percent of the total revenue while users from India and the UK bring over two-thirds. Such facts come from the information collected by App Annie / IDC.
The revenue can be boosted by the next line of iPhones that predict to have the 4-inch iPhone 6c and new Apple Watch that is officially released in April.