Big Present for Christmas! Evad3rs Released iOS 7 / 7.0.4 Untethered Jailbreak!
Hackers from Evad3rs released Evasi0n 7 – a new application for jailbreak iOS 7. Release of the exploit took almost four months after the release of iOS 7. The application is compatible with all devices up to iOS 7.0.4 and available for free download on Windows and Mac.
Jailbreak iOS 7 Evasi0n compatible with the following versions of Apple iOS:
iOS 7.0
iOS 7.0.1
iOS 7.0.2
iOS 7.0.3
iOS 7.0.4
iOS 7.1 beta 1
iOS 7.1 beta 2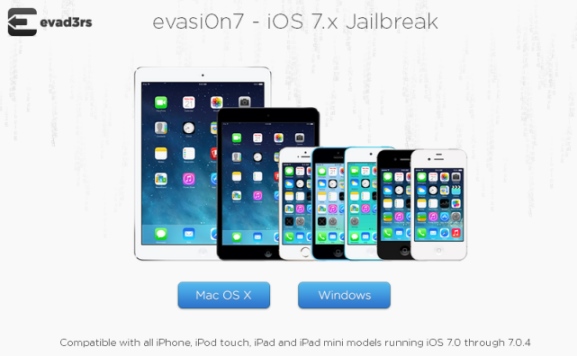 Jailbreak iOS 7 with Evasi0n possible on the following gadgets:
iPhone 5s
iPhone 5c
iPhone 5
iPhone 4S
iPhone 4
iPad 2
iPad 3
iPad 4
iPad Air
iPad mini
iPad mini 2
iPod touch 5
Although evasion 7 supports all iOS 7 firmware versions, we recommend update iPhone to the latest iOS 7 version. Moreover, experience shows that the chance of successfully hack OS enlarged when you updating device using clean method, through iTunes and not via Settings – > General – > Software Update. Update iPhone and iPad using iTunes only. Before starting jailbreak back up all the information and password to disable the lock screen on iOS devices .
After downloading links below you can jailbreak iOS 7 iPhone 5S and iPhone 5C and other devices using evasi0n 7 tool.
You can download Evasi0n 7 for free using the links below. Directions untethered iOS 7-7.0.4 using Evasi0n see here ( for Windows) and here (Mac OS X):