How to Buy Apple Watch: Experience You'll Get Soon
Can you imagine how different your Apple Watch buying experience will be from what you are used to with Macs, iPhones and iPads? The new iOS wearable release date is getting closer. The Cupertino-based giant will start accepting pre-orders beginning next Friday, April 10. Are you ready for the changes?
Smartphones and tablets are personal but they don't touch your body unlike the smartwatch which you wear on your wrist. It might be interesting for you to get an idea how the whole experience is going to work for potential consumers. Apple will open Watch stores in London, Paris, Tokyo and other places around the world, so not only U.S. users will get their hands on this new product.
How to Buy Apple Watch
Let's begin with an instruction.
Step 1. You can pre-order your watch starting April 10.
Step 2. If you have your watch pre-ordered it will be shipped to you on April 24.
Step 3. You can also book an appointment to try iOS wearable. If you do so, read our guide that explains how such appointments will be held in stores.
Step 4. If you haven't booked an appointment beforehand there is nothing to worry about. You can still come to Apple store and wait in a walk-in queue. The company has a new system that tells its clients when their appointment starts through the text message. If you come to the mall where Apple store is located you are allowed to shop elsewhere until you are texted.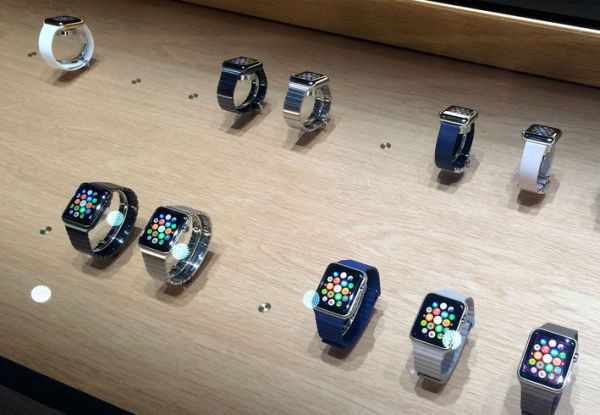 Apple Watch Buying Guide
Each Apple store that allows consumers trying the Watch will have a special display table with different units present but you can't mix and match smartwatch's bands and cases. Each device will be in demo mode but you will be able to see all the main features of the model you select to try.
The company will let you choose up to two different models. Once you make your choice, your one or two Watches will be moved to the try-on table with special drawers which only some employees can unlock. They are securily protected by RFID sensor and have special mechanism for unlocking.
Your unit [the one you will be testing] should include Force Touch and other important options even though it will run in demo. This is the most important part of the procedure. By trying different units you might be able to choose which one to purchase.
If you have reserved your unit by the time you try the watch itself you will be welcome to pay for it after you try it on and make sure this is exactly what you are looking for. If you haven't reserved a smartwatch you'll be able to do so through online store.