How to Buy Tickets Using Siri on iOS 6.1
You will like new iOS 6.1 Siri features a lot since you will be able to buy tickets using Siri once the new operating system becomes public. For now these options are mostly available to iOS developers, even though ordinary iOS users can also get the beta version of iOS 6.1 and test it on their handsets and tablets [Read our article on how to install iOS 6.1 beta 1 without a developer's account].
Apple has made its Siri smarter as it gains movie ticket buying option in the next upgrade for iOS. It is not the only discovery with iOS 6.1 update as this firmware will also add positive changes to Apple's Maps app and Lock screen music control features. Still we will devote this article to awesome iOS 6.1 Siri features.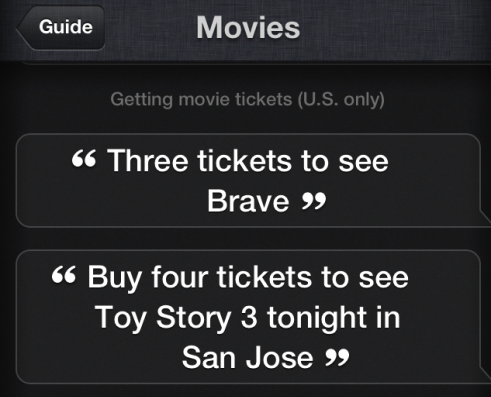 Siri and Movies
Thanks to the renewed firmware, iOS users will buy tickets using Siri in easy and quick way. All you'll have to do is tell your smart companion what cinema you wish to go to, what movie you plan to watch, when it is on the screen and how many tickets you need. Siri will do everything else on its own: it will transfer users to the Fandango program which makes it possible to complete your purchase.
Those iOS customers who haven't installed the Fandango application yet will be provided with a direct link from the App Store to download and use it.
The new feature at first will be available for U.S. customers only. You should keep in mind that it works with a number of cinemas so your choices of where to see movies will be limited.
iOS 6.1 Siri Features
What do you think about being able to get movie tickets via Siri? Right now you can watch movie reviews and trailers via this assistant. The future update sounds just great, as to me.
You can share your own thoughts on Siri being able to book cinema tickets in iOS 6.1 in the comments below.