Working Solution for iPhone / iPad iCloud Bypass from iclouddnsbypass.com
There is an awesome solution for all iPhone users who are impatiently waiting for full Activation Lock bypass and wish to use their smartphone at the same time. Being stuck on iCloud Activation Lock on iOS 7 and iOS 8 is not fun at all. Sometimes you forget your passcode, sometimes you just cannot contact the reseller of the used gadget you purchased online. There are a lot of reasons for getting stuck and one cool solution which allows you to bypass iCloud activation on iPhone 5 / 5S / 5c / 4S / 4 / 6 and 6 Plus, iPad, iPad 2, iPad 3 and all iPod Touch models by connection your device to special server. Developer July Ighor from Ukraine lets users use the DNS server at 78.109.17.60 to stop being locked completely. This solution is using DNS method (like SiriProxy Server)  because of better device connection speed.
You cannot make phone calls, play games and launch applications since you don't have the passcode and this is why you need any iCloud Activation bypass tool that can entertain you for a while. Please, note that this is just a temporary solution. Still it takes time to finish the procedure and to make your wait funner you can use the DNS server offered by the Ukrainian dev. This unique iCloud Activation Lock bypass DNS server is used by over 51,000 gadgets so far.
Why most people use iCloud DNS Bypass Server by July Ighor
Here some features which are only available when using this server: listen to radio, music, record videos, take images and watch videos, browse web, use Socials Apps, etc;
This server supports all versions of iOS firmware and all iPhone and iPad models (included blacklisted devices);
Server is using C++ code. It is very strong and powerful as it can allow thousands of gadgets to connect with only about 2 percent of CPU load;
Server is using DNS routing instead of Proxy method (mostly used by other bypass activation lock servers) which is much more faster;
No extra software needed to Bypass activation lock;
How to Bypass iCloud Lock on any iPhone or iPad by using iclouddnsbypass.com
Step 1. Click on Home button of the activation locked device. Select "More Wi-Fi Settings" and click on the 'i' icon that appears under Wi-Fi.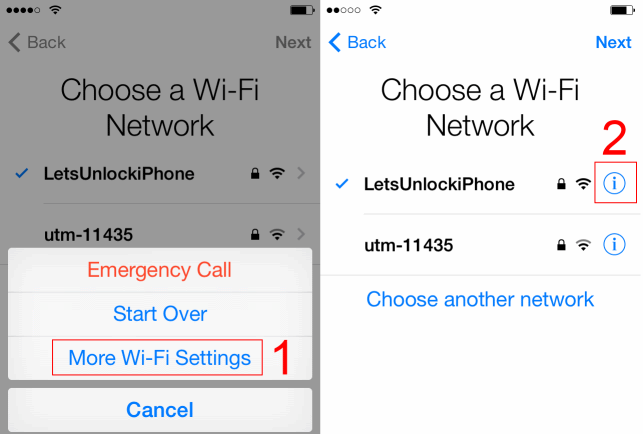 Step 3-4. Check your DNS settings field and enter: 78.109.17.60 (delete any previous DNS ettings)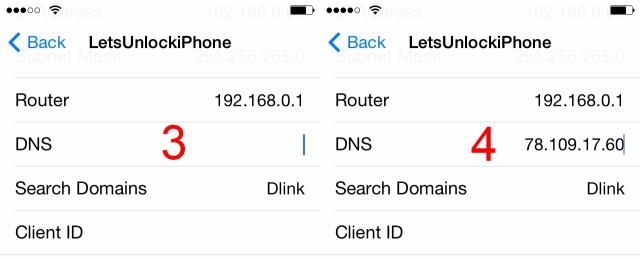 Step 5. Now click on Activation Help link and wait till you see "Hello" message from server.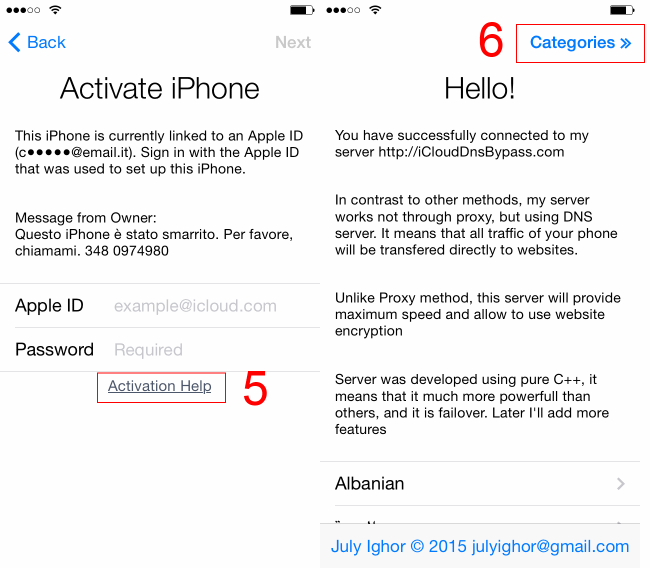 Step 6. Start using some of the options that weren't available to you before.
Step 7. (optional) If you want to browse web from your device please enter following to DNS settings field as shown on step 2:
78.109.17.60, 78.109.17.60, 8.8.8.8
NOTES: In case you cannot connect to this server you need to reboot a couple of times. If reboot doesn't solve the problem it means that your internet provider doesn't allow you connecting to custom DNS servers. In this case please download iCloud DNS bypass Server GUI and install in to your PC.
This is a great iCloud Activation Lock bypass tool that supports only Windows platform at the moment. At the same time it is available in a lot of foreign languages so you might find your native menu to make the experience much easier and comfortable.
Personally I find this server the best available iCloud bypass solution at the moment. Please feel free to comment your opinion bellow.