How to Change Apple TV DNS Settings on 4th Generation Model
Most users with Apple TV 4 generation don't pay attention at different DNS, CDN and other internet-related information. When it comes to Apple TV DNS settings or similar things you should do in order improve something or make it work – you start searching for how to change this DNS and what DNS is [by the way, you can bypass iCloud activation using DNS method].
Well, DNS stands for Domain Name System and we'll explain how you can change your Apple TV DNS server settings. Of course, the internet provider you are using offers its DNS for all your gadgets. Still you have a choice and can select your own faster DSN server instead of using your provider's default options. You could get faster internet connection and better vdeio streaming in the end. Why not giving it a try?
How to Change DNS Apple TV Settings
Step 1. Firstly you should learn about possible DNS servers available. There is the free Google DNS you can choose, OpenDNS service that is reliable and promises fast speeds and many other public DNS you can choose from.
Step 2. Once you have selected the server you wish to try [you can always change it again to find what suits you the best] – launch Settings on Apple TV 4 Gen.
Step 3. Select Network – Connection – WiFi network you are using.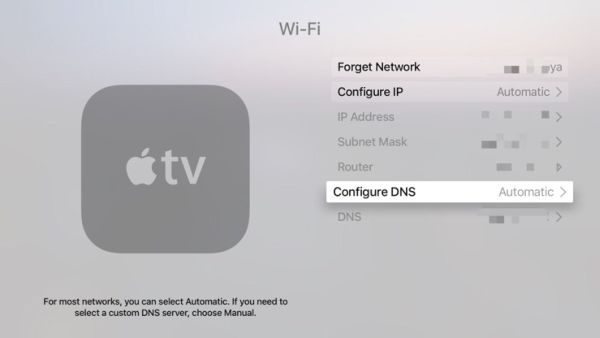 Step 4. Click on your network for the second time to get to Configure DNS option [also learn how to change DNS server on iPhone and iPad].
Step 5. You can see that it using Automatic mode by default.
Step 6. Choose Manual option and use another DNS server.
Step 7. Enter the DNS you wish to use. If you are used to 4-digit DNS addresses don't panic. ATV uses the same x.x.x.x format but translates it to 00x.00x.00x.00x instead. For example, Google's DNS is 8.8.8.8 [or 8.8.4.4] – you'll have to enter either 008.008.008.008 or 008.008.004.004 on your ATV to use it.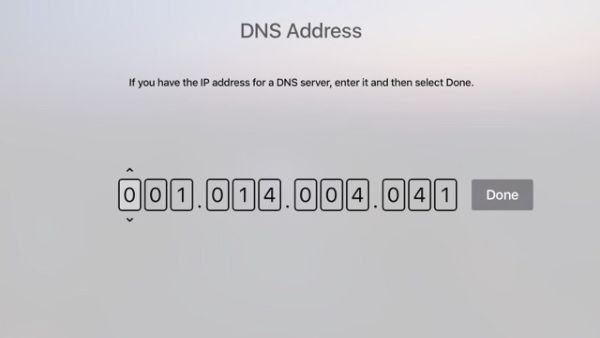 Step 8. Press on Done after you entered the new DNS numbers.