Compare 4th Generation iPad from Apple with New Nexus 10 from Google
On Monday internet corporation Google has released Nexus 10, 4th gen iPad competitor and in turn, Apple announced a compact tablet iPad mini to compete with Google Nexus 7. As you can see, the rivalry between Apple and Google has expanded beyond operating systems and smartphones.
Today I offer you to compare iPad 4 vs Nexus 10 on a number of parameters: the screen, corpus, operating system, performance, price, and other objective data. So, lets start with the screen. But you can first read about iPad 4 features and specs and only then compare these both gadgets.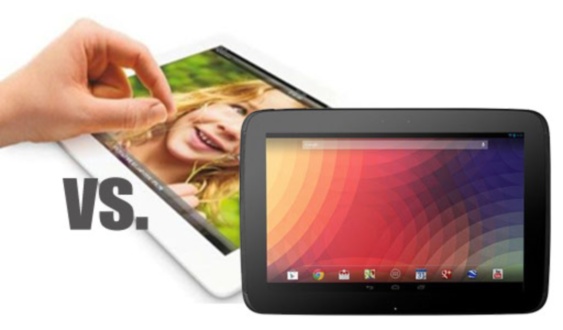 Display
Nexus 10 screen resolution is higher than that of the 4th generation iPad: 2560 × 1600 pixels with a pixel density of 299 per inch against 2048×1536 with the density of 264 pixels per inch. But when it comes to the quality of the matrix then it is hard to pick a winner, because the difference comes down to personal preference: some like a Retina iPad, while others will prefer the PLS matrix in Nexus 10. in this case both have advantages and disadvantages.
As to the ratio of the display 4th iPad has 4:3 which is more suited for web browsing and reading books, while the Nexus 10 is 16:10 easy to read.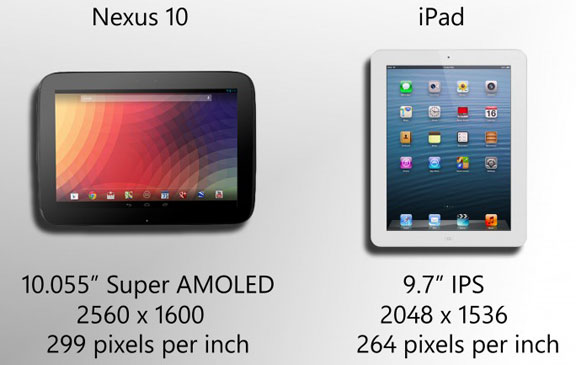 Operating system
Nexus 10 runs on the Android 4.2 Jelly Bean. The main advantage of the tablet is Google support which means that it will be one of the first to receive the latest updates. Also this OS is well-known for its flexibility and good multimedia capabilities, such as playing a variety of audio and video formats.
The stability and smooth operation in iPad 4 running iOS 6 is out of competition. In addition, users have access to the App Store with more than 250 thousand high-quality apps, adapted to 10-inch screen device.
As you are interested you can compare iOS security vs Android and make your conclusions.
Speed
In the hardware comparison you can see that these tablets are completely different. Nexus 10 equipped with 2-core 1.7 GHz Exynos processor from Samsung, 2 GB of RAM and Mali T604 graphics core. This allows the tablet to run smoothly and quickly. iPad 4 is more powerful in this aspect thanks to 2-core A6X with 4-core graphics. There is only 1GB RAM in iPad 4 but it is enough for such iOS.
You can get Nexus 10 no higher than 32 GB of memory without the possibility of expansion. iPad 4 with its maximum 64 GB is the winner.
The Battery Life
Nexus 10 can not be compared to the battery life with the iPad 4. Apple tablet benefits from the higher battery capacity – 11,666 mAh vs 9000 mAh at Nexus 10.
Corpus
iPad 4 has a great corpus with a proprietary iPad design from Apple, which is not only pleasant to hold in their hands.
According to observers, Nexus 10, probably the only 10-inch tablet of all Android tablets which is easy to hold with one hand, thanks to Matt plastic, rounded edges and a balanced body. In this case, it is thinner than iPad 4 to 0.5 mm and lighter by 50 grams.
The Price
Nexus 10 is available only in two versions: 16GB for $ 399 and 32GB for $ 499. iPad 4 will be much more expensive: the minimum price for the most simple version with Wi-Fi starts at $ 499 and goes up to $ 830 for the most expensive. And that's just in the U.S.
In addition to Wi-Fi, Bluetooth 4.0 and GPS, the Nexus 10 features a NFC chip, a microUSB port and microHDMI. The iPad 4 features only its proprietary Lightning connector which has not gained popularity yet. A GPS is only in models with 3G/LTE.
Conclusion
Nexus 10 looks a worthy contender for the iPad 4. His trump card in high resolution display, the presence of additional interfaces and, of course, more attractive price. You can see that iPad 4 vs Nexus 10 wins in this comparison, however, the other arguments, such as the matrix screen, corpus, personal preference – it is a matter of taste.