Direct Link For IOS 8.1.2 PP Jailbreak For MAC Is Here [Download]
Great news, you can download iOS 8.1.2 PP jailbreak for MAC. Due to some reports some Chinese hackers have launched a jailbreak tool that is called PP Jailbreak for Mac OS X to hack iOS 8 / iOS 8.1.x. This new tool, which is unaffiliated with TaiG Jailbreak on Windows, is able to jailbreak and compatible with any iOS 8.0 / 8.1.2 device on Mac.
The jailbreak tool supports the following compatible devices:
iPod touch 5G
iPad Air, iPad Air 2, iPad 2, iPad 3, iPad 4
iPad mini, iPad mini 2, iPad mini 3,
iPhone 6, iPhone 6 Plus, iPhone 5s, iPhone 5c, iPhone 5, iPhone 4S
PP Jailbreak uses the exploits from TaiG, so it seems like any new exploits were burned. Although, there were no official confirmation from respected members of the jailbreak community on the safety of PP Jailbreak. So be careful as you utilize the tool at your own risk. There were some number of users on Reddit who have confirmed that it works fine.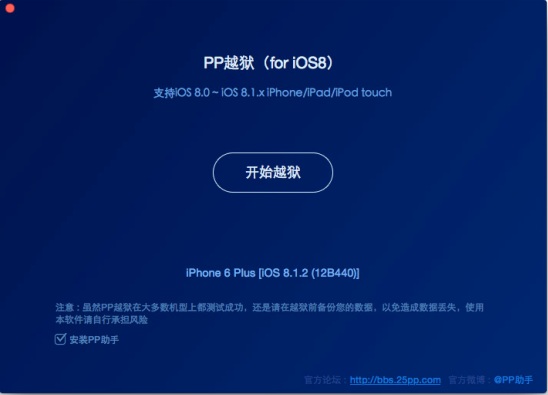 Here you can download iOS 8.1.2 PP jailbreak for MAC. Please remember that you need to uncheck the check box at the bottom, because it seems to install the pirated Chinese App Store. Don't forget disable the iCloud Passcode feature before proceeding as the tool is based on the TaiG jailbreak.
Please note although there no confirmation that the jailbreak is safe. We'd better recommend users to proceed with caution.
According to reports, the TaiG team is also working on a Mac version of their popular jailbreak tool for iOS 8 – 8.1.2 devices.