Download NameBench and Fix iOS 6 WiFi Problems
Not long ago I wrote a tutorial guide to fix iOS 6 WiFi problems using different methods and you can try it first. But if you still trying to find iOS 6 WiFi fix you can use NameBench program and my tutorial guide below.
iOS 6 users continue to complain on malfunctioning of wireless Wi-Fi, and the problem is not only with the iPhone 5, as previously thought.
Forum Posts on Apple Technical Support Apple, related to iOS 6 WiFi connection problems, took more than 90 pages. For the first time this topic on the forum came on the day of the release of the new OS, September 19. Some visitors write that WiFi in their device is disabled and they do not have access to the Internet, others complain of low WiFi bandwidth.
Users tried to fix WiFi bugs using standard solutions such as reinstalling iOS 6, rebooting and even repair it contacting to Apple technical support. But often, these methods do not help to solve the problem. Errors appear in the iPhone 5 and iPhone 4S, iPad and other devices that have been upgraded to iOS 6.
The problem with slow WiFi performance can be fixed in the Settings iPhone app entering rapid DNS servers. So let's start.
How to Fix Wi-Fi on iPhone Running iOS 6
Step 1: First download NameBench for Mac or Windows and run the search for the nearest rapid DNS servers.
Step 2: When you find some save it and then take your iPhone (or iPad).
Step 3: Go to the device Settings and open WiFi section.
Step 4: Click on the blue arrow next to the name of the wireless network for which you want to specify custom servers.
Step 5: Here the line you need to enter the DNS option from step 1 (if you did not run the tests, use the DNS servers of Google:
 8.8.8.8 or 8.8.4.4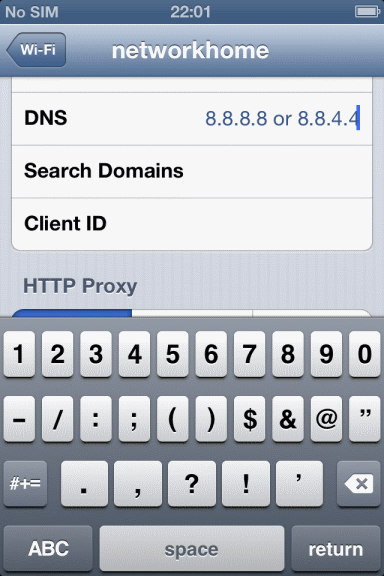 That's it. Now you can easily use Internet on iPhone after you know the iOS 6 WiFi fix and share it with other using share buttons below. Note that Apple representatives had no immediate comment on the issue, despite the fact that it is being learned over a week ago.