How to See Exact Number of Cydia Tweaks on iPhone [Instruction]
Do you know the exact number of Cydia tweak on iPhone you have installed if you are jailbroken? It's hard to keep a track of each jailbreak app you download as most users don't use half of the tweaks or applications they download. It is possible to find out the number of all your tweaks on iOS 9 using a special jailbreak tool.
It's easier to use the free tweak if you need to count all your tweaks installed on iOS 9 gadget. Otherwise you'll have to manually count them and this can take much of your time. Isn't it easier to download a no-cost tool instead?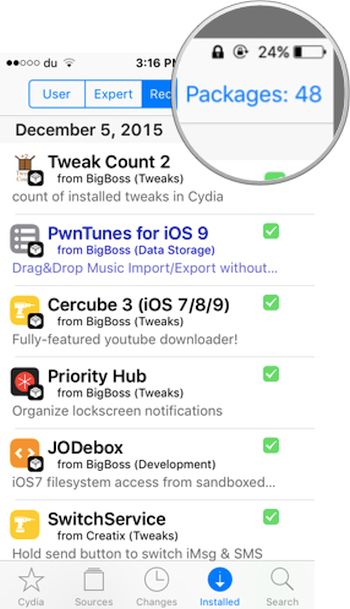 How to See Number of Tweaks Installed on iPhone 6s iOS 9
Step 1. Visit BigBoss repo where you can download and install Tweak Count 2 app.
Step 2. You can now find out how many tweaks installed on iPhone with the help of your new application. Launch Cydia now.
Step 3. You should select Installed section in Cydia store and this is the place where the information about your jailbreak tweaks installed on the smartphone is stored [keep in mind that there are no iOS 9.2 firmware tweaks because it is impossible to jailbreak this version].
Step 4. Do you see a package count in the navigation bar? It should be present in the right corner. Besides, it is also available at your tweak list's end. You can see the exact number of jailbreak apps you have installed on your smartphone.
Step 5. You can adjust some preferences using the pane that appears in Settings. Here you can turn on or off the tweak, change the label color and do some other things.
This is a simple free tool to use when you wish to count all your tweaks within a couple of seconds.