Don't Expect iOS 7 Jailbreaking Next Week
The prospect to install new tweaks on iOS 7 after jailbreak excites the minds of the owners of iPhone and iPad. Sooner or later, their dream will come true, but it definitely will not happen in the near future. At least, judging by the fact that members of the hacker group Evad3rs said.
For example, Pod2G warned users against expectations of an early release of jailbreak iOS 7. Responding to questions from its subscribers in Twitter, Pod2G said he is not ready to give an accurate prediction on terms of appearance of iOS 7 jailbreaking. He warned that the developers may face different challenges.

On the eve of another hacker Planetbeing said on Twitter about some progress towards developing iOS 7 evasi0n jailbreak. He wrote that Evad3rs working hard on exploits, and almost all the parts put together.
At the same time Pod2G was not so optimistic. Quoting Planetbeing, he noted that " there is still a long road." Assembling all the missing parts can take time. So do not wait for the jailbreak next week .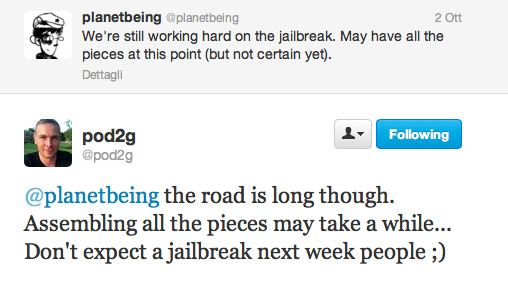 As I have repeatedly, jailbreak is not expected before Apple will start selling the iPad tablet 5 and iPad mini 2 running iOS 7.1. Hackers have to study the whole range of iDevices before release a new exploit. Before iOS 7.1 releasing jailbreak does not make sense.
By the way, in the process of preparing the jailbreak for iOS 7 hackers do not forget about the main ingredient Cydia. Sauric also tweeted that not all tweaks are supported on iOS 7. Stay tuned for more news.