Find Out Your iPhone Lock / Unlock Status and the Carrier for Free
iPhone is a popular smartphone but sometimes it is a real pain to have especially for people who like to travel. Most of us prefer purchasing locked devices. They are more affordable than the never-locked handsets. You can use them in your home country without problems as problems appear when you are trying to slip in a SIM card of a different carrier and figure out you cannot use it.
It's best to check whether your iPhone is unlocked or locked before going to a foreign country and find out you can do little about the issue. Here is what you should do before traveling.
iPhone Lock Status Check
I'll start with the simplest solution to our little problem. Just take your native SIM card out and insert the SIM that belongs to a different carrier [not the one you are now using]. Make sure you reboot afterwards and take a look at the status bar.
Do you see another network name? If the answer is yes, hooray! Your smartphone is factory unlocked meaning you can use any SIM card of any carrier without problems. If the answer is no, you are an owner of a locked gadget that supports only one mobile operator's network.
Check if iPhone Is Locked or Unlocked Online
Sometimes there is no a SIM card of a different carrier to insert into your iPhone to see whether it supports different networks. In such a situation you should connect to the Internet and visit IMEI.org site that can show you information about your smartphone along with its lock status, carrier, warranty status, activation status and many other info about the iPhone.
It is easy to get your IMEI number by entering *#06# on handset's virtual keyboard [or through Settings – General – About browsing]. This code should be typed on the website. After inputting the number for your iPhone you will find out different details about it including if your iPhone is locked or not.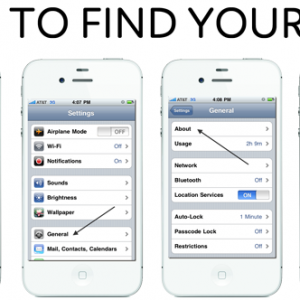 It is necessary to open a free account with the site. Log in, choose "SIMLock and Warranty" and follow all the steps prompted. Then you'll find out your iPhone lock status.
Users who have a locked smartphone can unlock it using an affordable iPhone factory unlock by IMEI code.